Scot Silber Named 2011 Outstanding Alumnus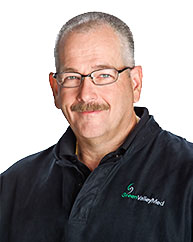 Scot Silber (B.S. Pharmacy '82) has been named the UW School of Pharmacy Outstanding Alumnus for 2011. Silber is the President and CEO of GreenValleyMed and NDC Pharmacy, both headquartered in Henderson, Nev., and of University Specialty Pharmacy in Commerce, Calif. He is also co-founder and chairman of the board of the Nevada Childhood Cancer Foundation.
For his community service work, Silber received the prestigious Bowl of Hygeia award for the state of Nevada in 2002. In addition, the School of Pharmacy is very grateful to Silber and his wife, Nancy, for supporting the school. They have contributed needed supplies to the Sterile Products course and lab. Their support has made it possible for students to continue to learn this critical piece of pharmacy in a hands-on educational setting. In addition, the Silber's are sponsoring a complete redecorating of the School of Pharmacy student lounge.
Silber is a preceptor for the University of Southern Nevada College of Pharmacy Sterile Products course and labs and is a member of the University of Wyoming School of Pharmacy Dean's Advisory Council. (Read more)