Evgeniy Panzhinskiy Receives ASPET Graduate Student Travel Award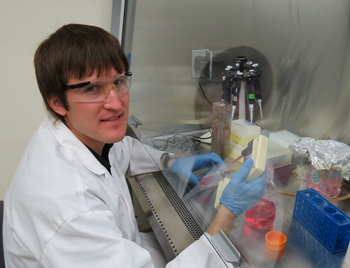 Evgeniy Panzhinskiy, from Khabarovsk, Russia, a graduate student in the research lab of Associate Professor Sreejayan Nair, Ph.D., was recently notified that he has received a Graduate Student Travel Award from the American Society for Pharmacology and Experimental Therapeutics (ASPET). He received the award to attend the ASPET Experimental Biology 2012 Annual Meeting, April 21–25, in San Diego, Calif. While at the meeting, Panzhinskiy will be recognized for receiving the award and will attend the Graduate Student Colloquium.

Panzhinskiy is a fourth-year Molecular and Cellular Life Sciences (MCLS) Ph.D. student. As Panzhinskiy's research adviser, Nair comments, "Evgeniy's area of research is to understand the molecular pathways leading to insulin resistance conditions. Specifically, he is investigating the role of a molecule named protein tyrosine phosphatase, which is thought to regulate the functions of insulin."

"My research is focused on type 2 diabetes, diet-induced obesity, and insulin resistance," adds Panzhinskiy. "We are especially interested in a physiological function and pharmacological intervention of the protein called PTP-1B, which is a negative regulator of insulin signaling and has implicated in development of type 2 diabetes. We found that the derivative of curcumin, which is a key component of spice tumeric, is able to reverse diet induced insulin resistance, through PTP-1B inhibition."

Panzhinskiy graduated from Novosibirsk State University in Russia with a master's degree in 2008. Following graduation, he entered the Molecular and Cellular Life Sciences (MCLS) Ph.D. program at the University of Wyoming. Per Panzhinskiy, "I chose Wyoming because my friends, who were already students here, gave good reviews about the MCLS program. Other factors for choosing UW were the small town environment, close proximity to the outdoors, and climate similar to my hometown. After graduation from UW, I'm planning to find a postdoctoral fellowship at one of the leading research institutes in the U.S. My long-term goal is to become a professor."

As a hobby, Panzhinskiy likes to do cross-country skiing, for which Laramie has perfect conditions. He competed for the UW Nordic Ski Club at the NCAA Division II National meet in 2009–2010 where he won two individual titles and the team won three national championship titles. He still continues to ski and competes for fun, because it not only keeps him in shape but also helps in his research.

The ASPET Experimental Biology (EB) meeting is a multidisciplinary, scientific meeting comprised of nearly 14,000 scientists and exhibitors representing six sponsoring societies and over 30 guest societies. The meeting features plenary and award lectures, pre-meeting workshops, oral and poster sessions, on-site career services and exhibits featuring an array of equipment, supplies and publications required for research labs and experimental study.