Pathophysiology TA Emily Bandel Accepted into Mayo Clinic Internship Program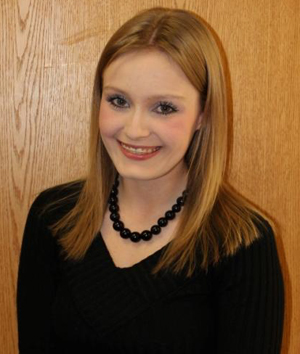 The School of Pharmacy is committed to advancing interprofessional educational opportunities for students. As part of this effort, in addition to pharmacy students, pre-professional students, including all on-campus pre-nursing students, as well as graduate students, are enrolled in Pathophysiology.

In the first-semester Pathophysiology course, teaching assistants (TA's) have included top students from the pharmacy and nursing programs. This year, two TA's are juniors in the Fay W. Whitney School of Nursing Bachelor of Science in Nursing (BSN) program: Emily Bandel and Frank Vitale are both Wyoming natives and recognized as outstanding students and leaders in their program.

Recently, Bandel was notified that she has been accepted into the Mayo Clinic Summer III Internship Program. The Mayo internship program for junior BSN students will be held at the clinic's medical center in Rochester, Minnesota, June 4 to August 10. These paid internships are highly competitive—only 100 of last year's 1,200 applicants were selected. Given that team-based working skills are increasingly being sought after in progressive healthcare institutions, Bandel's experiences as a TA made her a strong candidate for the Mayo internship.

As a TA, Bandel works with small groups of students to prepare them for formal case study presentations in Pathophysiology. She provides a hands-on view of patient care based on her five years as a Certified Nursing Assistant. Her goal is to help students know how to understand the "why" and the "what" based on her belief that will help the information "stick."

"Emily's dedication and level of responsibility and commitment makes her a role model for the students. She is actively taking care of patients and offers insights to the students about patient care and disease states. She and the other TA's, including pharmacy students, set examples for working effectively in interprofessional teams," comments Pathophysiology course coordinator Assistant Professor Suzanne Clark, Ph.D."

Jodi Schilz, Biomedical Medical Sciences Ph.D. graduate student and G.A. for Pathophysiology, comments, "Emily has been extremely helpful by working directly with the students to increase their knowledge and understanding of the course material. I believe her past experience in the course and her current use of pathophysiology in her nursing classes adds validity to the often difficult knowledge taught in the course. She helps the students relate the information to their future careers. The students also identify with her efforts to balance all of the learning and practical knowledge that nursing and pharmacy require."

In addition to being a nursing student and a TA, Bandel works about 25 hours per week at the Cheyenne Medical Center and also at the Davis Hospice Center. She floats to other units as needed and consequently, has experience in many areas, which she feels was a factor in being selected for the Mayo internship.

Bandel will work with a nurse in the Mayo Cardiac Surgery Step-Down Unit taking care of heart transplant and open heart surgery patients. She says, "This will be an invaluable experience for me—being able to work one-on-one with a nurse who is tutoring me in a surgery center in a major hospital." She adds, "I am interested in being a pediatric oncologist nurse practitioner and I may also have the opportunity to shadow a pediatric oncologist nurse practitioner at the Mayo Clinic!"
(photo courtesy of Claire Hitchcock)