Poster Presented at National Public Health Preparedness Summit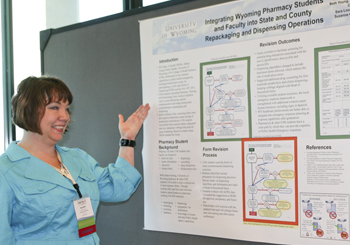 Jennifer Steiner, class of 2013, presented a poster about preparedness practice outcomes at the national Public Health Preparedness Summit in Anaheim, Calif., February 21–24.
Only one-third of approximately 400 abstracts submitted for the summit were accepted for presentation. Public health professionals from all parts of the U.S. attended the summit.
Poster co-authors include Albany County Public Health Emergency Response Coordinator Beth Young, M.S., Sara Lookabill (class of 2012), and Assistant Professor of Pharmacology Suzanne Clark, R.Ph., Ph.D.

The poster, titled "Integrating Wyoming Pharmacy Students and Faculty into State and County Repackaging and Dispensing Operations," describes improvements to mass countermeasure dispensing that pharmacy students at the University of Wyoming have made due to their specialized medical knowledge and continued work with Albany County Public Health. Students streamlined the repackaging process and implemented important patient safeguards that were adopted by the Wyoming Department of Health.