Alumnus Stephen Adams Named ASHP Fellow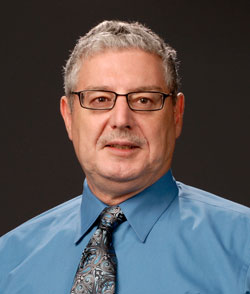 Stephen Adams, Pharm.D. (B.S.P. '80), is the first UW pharmacy graduate designated a Fellow of the American Society of Health-System Pharmacists (ASHP). Adams, who is the assistant chief of inpatient pharmacy at the Raymond G. Murphy VA Medical Center in Albuquerque, N.M., is one of 30 pharmacists nationwide honored as 2012 ASHP Fellows. He was recognized for the excellence he has achieved in pharmacy practice during the ASHP Summer Meeting & Exhibition in Baltimore, Md. on June 12.

"Our alumni, faculty, staff, and students are extremely proud of the exceptional success Dr. Adams has experienced in his pharmacy career. The success of alumni such as Dr. Adams inspires our students to become tomorrow's leaders and change agents of the pharmacy profession. This recognition of Dr. Adams by making him a Fellow of the ASHP is richly deserved," says John Vandel, dean of the School of Pharmacy.

Adams has held a variety of practice and leadership positions during his 30 years of experience. His hospital experience includes the University of Texas M. D. Anderson Hospital and Tumor Institute and St. Luke's Episcopal Hospital, both in Houston, Texas, and the Heart of the Rockies Regional Medical Center in Salida, Colo., as well as multiple U.S. Army and U.S. Public Health Service (USPHS) hospitals.

After earning his Pharm.D. from Creighton University, Adams completed a post-graduate oncology fellowship at the M.D. Anderson Cancer Center. Through his research at the center, he helped define the pharmacokinetics of "belly-bath" chemotherapy and the development of new treatments. While at St. Luke's Episcopal Hospital, Adams was a member of the management team which was awarded the Texas Society of Health-System Pharmacists (TSHP) Pharmacy Innovative Practice Award. Accomplishments included establishing clinical pharmacy services which included drug therapy management under protocol, a pharmacist managed inpatient anticoagulation program, and introducing POE in a critical access hospital. His contributions in quality assurance include development of a dose verification process that integrated chiefs of service, standardized code blue carts with pharmacists' response, and a pharmacist intervention program with peer review. The peer review program was the first in the nation to incorporate pharmacist peer review into internal medicine.

In addition to serving in the USPHS, Adams has been a member and advisor of numerous national and international health organizations including the World Health Organization (WHO) and the United Nations Educational, Scientific and Cultural Organization (UNESCO). He has written many refereed journal articles, was editor of Infusion and TSHP Journal, and received numerous citations for his meritorious service to the USPHS and the U.S. Army. Additionally, Adams is a frequently invited speaker to national and international conferences, addressing topics ranging from pharmaceutical regimens for pain management, to treatment of chemical and biological war injuries, to herbal medications in orthopedics.

A unique accomplishment is his work in the field of emergency preparedness where he helped to incorporate pharmacists and pharmacy services as a critical part of any response. He was awarded the National Disaster Medical System Outstanding Volunteer for 2002. Adams led the pharmacy response team after the World Trade Center and the Pentagon terrorist attacks and served as the pharmacy liaison officer for St. Bernard Parish following Hurricane Katrina. He has personally responded to numerous other disasters, both domestic and overseas.
 
Adams has contributed to pharmacy education as a teacher, preceptor, role model and mentor. His formal teaching includes appointments at several schools and colleges of pharmacy. He has been a preceptor for both students and residents in drug information, oncology, administration, hospital pharmacy, research and investigational medication. His commitment to pharmacy residency education includes serving as a preceptor at St. Luke's Episcopal hospital and the Raymond G. Murphy VA Medical Center for over 30 residents, as well as helping to establish the first pharmacy residency at the Rosebud Indian Health System Hospital in Rosebud, S.D. His commitment to education was recognized when he was awarded the TSHP Mentor Award. Adams has served as a preceptor for pharmacy students from the universities of Wyoming, Houston, New Mexico, Texas, Texas Southern, South Dakota State, Idaho State, and Midwest. He has had several international pharmacy students from France, Germany, Great Britain, Australia, Canada, Brazil and Croatia, and he established a pharmacy director's exchange program with Brazil, Croatia, France and Canada.
 
For more than 60 years, ASHP has helped pharmacists who practice in hospitals and health systems improve medication use and enhance patient safety. The Society's 35,000 members include pharmacists and pharmacy technicians who practice in inpatient, outpatient, home-care, and long-term-care settings, as well as pharmacy students. For more information about the wide array of ASHP activities and the many ways in which pharmacists help people make the best use of medicines, visit ASHP's website or its consumer website, SafeMedication.
(photo courtesy of Stephen Adams)