2012 Preceptors of the Year
Garrett Needham and David Sy were honored at the Annual Honors and Awards banquet in April as the 2012 Preceptors of the Year for their significant contributions to the education of UW School of Pharmacy students.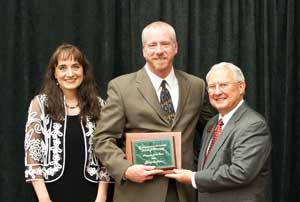 Garrett Needham (B.S.P. '93), with Albertsons/Osco in Cheyenne, Wyo., teaches an Advanced Community Elective for P4 students and an Introductory Community rotation for P2 students.
Students comment:
"Garry is an exemplary preceptor who demonstrates the positive impact a pharmacist can make on the community and profession. Customers are dedicated and become life-long patients to his pharmacy. His dedication to providing the best care possible for each person is demonstrated by multi-generations of a family coming to his store for medicine and medical advice. Garry has always taken an interest in mentoring every student who comes through his doors."
"I think that Garry made this rotation great for me because of his genuine caring attitude toward my learning experience. His random drug and disease questions every day really sparked my knowledge and helped me to remember important facts to counsel patients about with certain drugs. He would try to make every day a new and important learning experience for me. I learned a lot from Garry, especially by his attitude. He genuinely cares about his employees and patients, and watching his interactions with those around him really made me aspire to act like him as a pharmacist in the future."
"Garry bases the entire rotation around you. He helps construct activities and assignments that you are interested in, and that will help you with your weak points and what you really take an interest in. He is always willing to go above and beyond to help out. His interactions with everyone are always polite, professional and humorous."
David Sy (Pharm.D. '05), with Emissary Pharmacy in Casper, Wyo., teaches a P4 Geriatric Elective. He also serves on the school's stakeholder panel which is providing assistance during preparation for the upcoming accreditation visit. In the past, he has served as a preceptor for introductory practice experiences in the nursing home setting.
Students comment:
"David is very knowledgeable and works well with students to bring out the best in them. I will definitely try to emulate David's skills and techniques regarding patient care and pharmacy practice in my career as a pharmacist."
"David was really a major strength of the rotation. He is very interested in students and wants to see them succeed. He possesses a good attitude and is always willing to help his students. I feel I learned a lot through observing him practice both in the pharmacy and on location at the nursing facilities. He is also a great professional to interact with, very friendly and willing to help. I appreciated his guidance."
"This preceptor is amazing; very patient and intelligent. He cares about development of future generations of pharmacists. He is good at his job, patient care, and has an ability to relate things to his students. He also tailors projects to student's interests and is good at encouraging and developing independent ability in students."
Photo: Garrett Needham (center) is congratulated by Experiential Education Director Janelle Krueger and Dean John Vandel for receiving the Preceptor of the Year Award. David Sy was unable to attend the banquet. (photo by Jeff Gilmore Photography)