NCPA Medication "Brown Bag" Event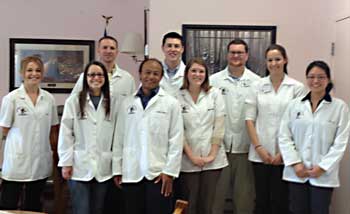 The recent NCPA medication "Brown Bag" event at Laramie Senior Housing was a great success. NCPA members had the opportunity to counsel six seniors on their current medications. During these events, pharmacy students sit down in small groups with one patient at a time. The students evaluate the patient's medications and assess for drug interactions, correct usage and dose, and any adverse effects the patient may be experiencing due to their medications. The students then try to answer any questions patients may have regarding their medications. The seniors were very grateful for this service and enthusiastic about the students' future as pharmacists.
Photo:  (back row, L to R) Melissa Mehle, Jason Cory, Quincy Shaw, Jesse Reilly, Pam Darrow, and Tracey Le. (front row, L to R) Lauren O'Dell, Andrew Draper, and Kendra Whalen.