Pam Darrow Receives National AACP Walmart Scholars Award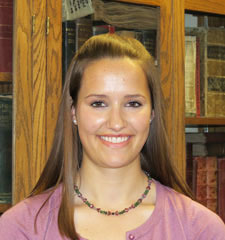 University of Wyoming pharmacy student, Pamela Darrow, from Powell, Wyo., has received a 2012 American Association of Colleges of Pharmacy (AACP) Walmart Scholars Award.
The award provides $1,000 travel scholarships to 75 student-faculty pairs from across the country. The goal is to strengthen recipients' research and scholarship skills for careers in academia.
Faculty mentor Michelle L. Hilaire, clinical associate professor of pharmacy practice, will join Darrow at the AACP Annual Meeting and Teachers Seminar July 13–18 in Kissimmee, Fla.
"Pam is an outstanding student and an excellent candidate for this award, which encourages bright, hard-working students to consider careers in academics and research. She brings extensive leadership skills as class president and has worked with numerous service activities during her time in pharmacy school," says Hilaire. "Pam will complete an academic-focused rotation during this month to learn the many aspects of being a faculty member in a school of pharmacy."
In addition to numerous other academic, leadership and service activities, in 2011 Darrow participated in a medical mission to Agua Salada, Honduras through a partnership between Shoulders to Shoulders and the University of Wyoming College of Health Sciences (CHS) where she experienced international healthcare first-hand. While there, she helped set up a pharmacy, counsel patients, utilize limited resources to treat diseases, and gathered data on the medication availability by diagnosis.
Following the mission, Darrow and co-authors Kara Springer and Kem Krueger, compiled the data and presented a research poster, titled "Review of Medications Utilized during a One-Week Experience in Honduras," at the CHS Grand Rounds 18th Annual Research Day, where they tied for third place.
Following graduation in May 2013, Darrow plans to complete PGY1 (post-graduate year) and PGY2 residency programs prior to pursuing a career in academic pharmacy. She says, "As a student, the faculty at the University of Wyoming have been my greatest inspiration throughout pharmacy school. Their passion for the field of pharmacy is most evident in the way they apply their experience in pharmacy to our education. They go above and beyond to not only teach us, but be involved in our education. They are all incredibly enthusiastic about the future of pharmacy and our futures as pharmacists and I hope to someday share that same enthusiasm and leadership for the pharmacy profession with my own students."