Russell Davidson Competes at ACUI Intercollegiate Clay Target Championships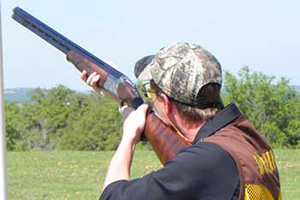 University of Wyoming pharmacy student Russell Davidson, from Kerrville, Texas, recently competed with the Wyoming Shotgun Sports team at the 44th annual Association of College Unions International (ACUI) Intercollegiate Clay Target Championships in San Antonio, Texas. Davidson placed second high overall on the team. He competed in international skeet, international trap, American skeet, American trap, five-stand, and sporting clays events. His best event was international skeet where he shot an 81/100 and placed 26th out of 265 shooters. The Wyoming team placed 9th out of 20 teams in Division II.
Davidson says, "I enjoy sporting clays because it is a very social sport. You get the opportunities to shoot with all sorts of people that you might not otherwise meet." He became involved in sporting clays in middle school when he started shooting with his father. Davidson has been competing in National Sporting Clays Association (NSCA) events for almost eight years. He joined the Wyoming Shotgun Sports team fall 2011, and has competed in shoots hosted by the University of Wyoming, University of Missouri, and Kansas State University.
Davidson decided to apply to the University of Wyoming School of Pharmacy when he was filling out applications for other schools while watching the Texas vs. Wyoming football game in 2009. He says, "Wyoming caught my attention and it looked like it might be a fun place to go to college. I ultimately decided to attend UW because I felt like I was at the point in my life where I needed to leave Texas and have an adventure of my own while I still had the chance."
The Wyoming Shotgun Sports team is a club sports team affiliated with the University of Wyoming. The club provides opportunities for individuals with all degrees of shooting experience. The team participates in competitive shoots against other collegiate teams regionally and from across the country at the ACUI National Championships. The club participates in international trap and skeet, American trap and skeet, five-stand, sporting clays, and doubles trap events.
The ACUI Clay Target Championships program provides a quality experience for students that teaches them fair play, concentration, logic skills, and enhances interpersonal relationships. This furthers ACUI's goal of creating meaningful communities. For over 40 years, ACUI has partnered with the host facility, sponsors, and schools from across the United States to conduct Clay Target Championships.
Photo (top): University of Wyoming pharmacy student Russell Davidson is shown during competition at the ACUI Intercollegiate Clay Target Championships in San Antonio, Texas. (photo courtesy of Russell Davidson)