June 2012 News Articles
University of Wyoming School of Pharmacy news for the second quarter of 2012
Alumnus Stephen Adams Named ASHP Fellow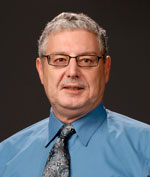 Stephen Adams, Pharm.D. (B.S.P. '80), is the first UW pharmacy graduate designated a Fellow of the American Society of Health-System Pharmacists (ASHP). Adams, who is the assistant chief of inpatient pharmacy at the Raymond G. Murphy VA Medical Center in Albuquerque, N.M., is one of 30 pharmacists nationwide honored as 2012 ASHP Fellows. He was recognized for the excellence he has achieved in pharmacy practice during the ASHP Summer Meeting & Exhibition in Baltimore, Md. on June 12.
Class of 2012 Commencement and Future Plans

The School of Pharmacy class of 2012 received their Doctorate of Pharmacy degrees during the UW College of Health Sciences commencement ceremonies on Saturday, May 5. Many graduates shared their future plans which include residencies, hospital, retail, community pharmacy, and spending time with family.

Garrett Needham and David Sy have been selected as the 2012 Preceptors of the Year for their significant contributions to the education of UW School of Pharmacy students. The announcements were made at the Annual Honors and Awards banquet in April.
Pam Darrow Receives National AACP Walmart Scholars Award

University of Wyoming pharmacy student, Pamela Darrow, from Powell, Wyo., has received a 2012 American Association of Colleges of Pharmacy (AACP) Walmart Scholars Award. The award provides $1,000 travel scholarships to 75 student-faculty pairs from across the country. The goal is to strengthen recipients' research and scholarship skills for careers in academia.
Greg Miller Named Mountain West Scholar-Athlete of the Year

University of Wyoming Pharmacy student Greg Miller, from Winnipeg, Manitoba, is the first University of Wyoming student-athlete to be named a Mountain West Scholar-Athlete of the Year. The award is the highest honor presented to a student-athlete by the conference and is based on achieving excellence in academics, athletics and community involvement.
Each year, the UW School of Pharmacy confers several student recognition awards to students based on nominations from the entire faculty and criteria set by each award donor. Outstanding student and faculty award recipients for 2012 were honored recently at the Annual Honors and Awards Banquet.
2012 Scholarship Recipients Honored
The School of Pharmacy announced the 2012 scholarship recipients at the Annual Honors and Awards Banquet in April. Thanks to the generosity and support from donors, 22 scholarships were awarded.
Student Organizations Present Awards for 2012
UW School of Pharmacy student organizations presented awards during the Annual Honors and Awards Banquet in April.
Faculty Receive 2012 CHS Awards
UW School of Pharmacy faculty were honored during the College of Health Sciences award ceremony in April for outstanding leadership and service to the college.
Faculty Receive CHS Research Awards
Sreejayan Nair and Baskaran Thyagarajan have received College of Health Sciences faculty grant-in-aid research awards.
2012 CHS Grand Rounds Research Day
The April 12th Grand Rounds/Research Day was a great success. Keynote speakers Robert H. Eckel and John L. Ivy addressed many interested students, faculty, staff, and Laramie residents about Type II Diabetes, the topic of the event. Students and faculty also had the opportunity to present posters outlining the results of their ongoing, cooperative research. The School of Pharmacy was well-represented during the event.
Interprofessional Activity: An Introduction to Collaborative Practice

In an effort to gain greater respect and understanding for various disciplines in healthcare, Phi Lambda Sigma (PLS) the honorary pharmacy leadership society, organized an extracurricular Interprofessional Activity that allowed students of various departments to work in interdisciplinary teams on a patient case.
NCPA Medication "Brown Bag" Event

NCPA members had the opportunity to counsel six seniors on their current medications during the recent medication "Brown Bag" event at Laramie Senior Housing. The students evaluated the patients' medications and assessed for drug interactions, correct usage and dosages, and any adverse effects.
Russell Davidson Competes at ACUI Intercollegiate Clay Target Championships

University of Wyoming pharmacy student Russell Davidson, from Kerrville, Texas, recently competed with the Wyoming Shotgun Sports team at the 44th annual Association of College Unions International (ACUI) Intercollegiate Clay Target Championships in San Antonio, Texas.
New Director for Biomedical Sciences Graduate Program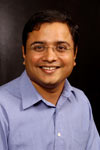 Sreejayan Nair, Ph.D., UW School of Pharmacy Division of Pharmaceutical Sciences Associate Professor, has been appointed the director of the Biomedical Graduate Sciences Program (BMS). Don Roth, Ph.D., School of Energy Resources (SER) Deputy Director for Academics, recently stepped down as the director of the program to focus on his growing responsibilities in SER.
School of Pharmacy Welcomes Jacqueline Robinson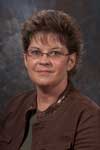 The School of Pharmacy recently welcomed Jacqueline Robinson as an Office Assistant Senior in the Student Services and Data and Communications offices. Jacqueline provides assistance with the admissions process, recruitment efforts and administrative support for Student Services and Data/Communications.