Interprofessional Activity: An Introduction to Collaborative Practice
by Pam Darrow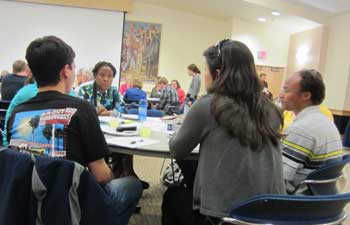 As healthcare continues to change, future healthcare professionals at the University of Wyoming realize the need for a collaborative work environment among all healthcare professionals. In an effort to gain greater respect and understanding for various disciplines in healthcare, Phi Lambda Sigma (PLS) the honorary pharmacy leadership society, organized an extracurricular Interprofessional Activity that allowed students of various departments to work in interdisciplinary teams on a patient case. This unique opportunity was attended by students in Dietetics, Nursing, Pharmacy, Social Work, and WWAMI, Wyoming's medical school, to work together and gain appreciation for each other's growing areas of expertise. Over 40 students participated in this catered, round table event on Wednesday, April 11th 2012 from 6-8 pm in the Union Ballroom.

Following the case-based work student comment was solicited. Many commented that this opportunity helped them to see the full clinical picture of a patient case and gain respect for other viewpoints.  It helped students to realize the importance of communicating effectively with different disciplines and acknowledging their reasons for a given action. Students noted the activity was valuable for their future careers as they look to facilitate team work and provide the best care possible, utilizing each discipline's strengths and knowledge base. Students reported learning how to act more independently and become more comfortable asking questions and communicating with their future co-workers.  As one participant remarked, "Hopefully this will be the beginning of a regular event."

Thanks to students' enthusiasm and the helpful support from numerous faculty members, the first annual Interprofessional Activity: An Introduction to Collaborative Practice was a great success. It is hoped that this activity will help to further similar interprofessional opportunities for future healthcare professionals at the University of Wyoming. A special thanks also to the Office of the Dean, WWAMI and Phi Lambda Sigma for financially supporting the event.