UW Pharmacy Student Greg Miller Named Mountain West Scholar-Athlete of the Year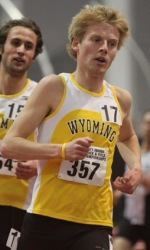 P2 Greg Miller, from Winnipeg, Manitoba, is the first University of Wyoming student-athlete to be named a Mountain West Scholar-Athlete of the Year. The award is the highest honor presented to a student-athlete by the conference and is based on achieving excellence in academics, athletics and community involvement.
Miller has been a Wyoming Cowboy in Track and Field for five years and was accepted into the UW School of Pharmacy in 2011. Prior to being accepted into the pharmacy program, he received a degree in Exercise Science from UW. Miller has been named to the Dean's List and President's Honor Roll throughout school and has excelled in cross country and track and field events at UW.
"It was a huge honor and a privilege to be accepted into the UW School of Pharmacy program," Miller says. "I went on numerous athletic recruiting trips to universities that had pharmacy programs. There was something about the program here and the faculty that made my ultimate decision to come compete for Wyoming and go to school here. I have no regrets on that decision either, my experiences with both track and field and academics have been great and it has been a lot of fun to represent Wyoming both in the classroom and on the track."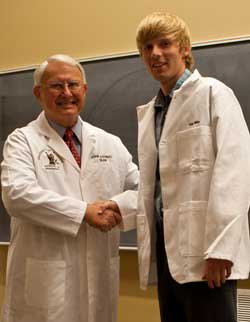 He continues, "This last year of competing and being in pharmacy school has been a lot of work but it has also been rewarding. The biggest barrier that I have had to overcome is time management. I have not had a lot of free time, but I have enjoyed being busy and making progress to become a pharmacist. It was sometimes difficult having class for most of the day and then having to go grind out a hard practice. It wasn't uncommon that I would be gone from home from 8:00 in the morning until 8:00 at night. My professors and coaches were both very accommodating to my competition schedule and I am very thankful to them for that."
Even though the pharmacy program is a lot of work, Miller likes learning and says it will be rewarding in the long run. He tries to keep a balance between running, school and giving back to the community. After receiving his doctorate of pharmacy, he plans to specialize in nuclear pharmacy.
Miller was born and raised in Canada, but has enjoyed living in the U.S. He says, "Living in Laramie is different than back home because I am from a big city of 900,000 people. It makes Laramie seem really small but it's nice to not have to sit in a traffic jam. Winnipeg is also really cold in the winter, it is roughly 100 miles north of North Dakota so we have REALLY cold winters (like 45 below) but the summers are in the 90s and humid." Besides cross country, he has competed in the following events: 1500, mile, 3000 m, 5000 m and 10,000 m. Miller was a swimmer and triathlete in high school. Now that his eligibility for UW has ended, he plans to switch back to triathlon and start training competitively for the 2013 triathlon season.
top photo: Pharmacy student Greg Miller is the first University of Wyoming student-athlete to be named a Mountain West Scholar-Athlete of the Year. While a Wyoming Cowboy, he has excelled in cross country and track and field events. (photo courtesy of Greg Miller)
bottom: Dean John Vandel congratulates Greg Miller during the UW School of Pharmacy White Coat Ceremony in August 2011. (photo by Jeff Gilmore Photography)