New Director for Biomedical Sciences Graduate Program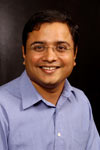 Sreejayan Nair, Ph.D., UW School of Pharmacy Division of Pharmaceutical Sciences Associate Professor, has been appointed the director of the Biomedical Graduate Sciences Program (BMS). Don Roth, Ph.D., School of Energy Resources (SER) Deputy Director for Academics, recently stepped down as the director of the program to focus on his growing responsibilities in SER.
The BMS program thanks Roth for his pivotal role in establishing this interdisciplinary program in 2010 and leading it since then. He will continue his association with the program as a member of the steering committee and faculty.
Nair joined the School of Pharmacy in 2002 as an assistant professor of pharmacology and received his tenure and promotion to associate professor in 2008.  His research, which has been funded by the American Heart Association, American Diabetes Association and the National Institutes of Health, focuses on understanding the molecular mechanisms of Type-2 diabetes. Nair also serves as the director of the Center for Cardiovascular Research and Alternative Medicine. Jun Ren, M.D., Ph.D., FAHA, College of Health Sciences Associate Dean for Research and professor of pharmacology, will serve as the co-director of the program during the transition period.