ASHP Clinical Skills Competition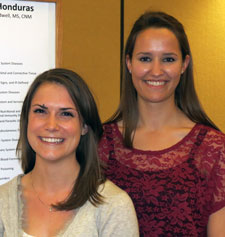 Kara Springer (L) and Pam Darrow (R) won the ASHP Clinical Skills Competition in September and will represent the UW SOP at the 2012 ASHP Midyear Clinical Meeting in Las Vegas, Nevada, on December 1, 2012. The competition is an interactive, team-based analysis of clinical scenarios for hospital/health-system pharmacists. It provides pharmacy students the opportunity to enhance their skills in collaborative practice with physicians in providing direct patient care. Local competitions are held each fall on college campuses around the nation.

In announcing the winners, the event coordinator Michelle Hilaire commented, "There was a great representation of P3 and P4 student groups. Congratulations to all of the teams that competed. This was a great opportunity to remind yourselves how much you do know about patient care and medications. I would like to extend a huge thank you to our judges: Jenna Sloan, Angie Thompson, Christy Weiland and Tonja Woods. Thank you to Melissa Hunter and Linda Martin for gathering up all the required resources. Finally, a thank you to the University of Wyoming Student Society of Health System Pharmacy chapter for donating their time and the snacks. This would not have been successful without all of your help."