UW School of Pharmacy Welcomes New Faculty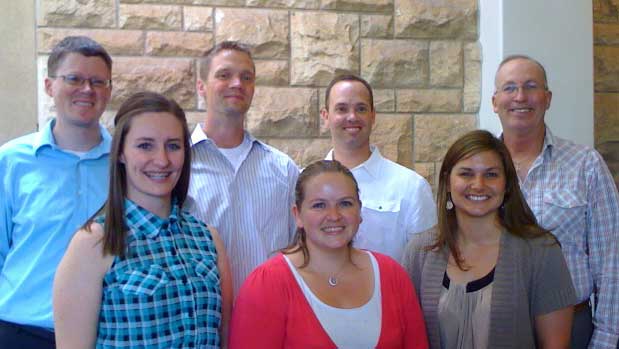 The School of Pharmacy is pleased to welcome the following new faculty: (front row, L to R) Janna Crumpton, Lauren Biehle, and Angela Thompson; (back row, L to R) Jeremy Vandiver, Travis Brown, David Bruch, and Lawrence Staubach.
Dr. Biehle received her Doctor of Pharmacy degree from the University of Georgia College of Pharmacy in 2010. She completed a PGY-1 Pharmacy Practice Residency at St. Luke's Episcopal Hospital in Houston, Texas in 2011 and a PGY-2 Infectious Diseases Residency at the University of Houston College of Pharmacy in conjunction with Cardinal Health in 2012. Dr. Biehle's practice site is Rose Medical Center working with the Rose Family Medicine Residency Program. She will be teaching in the Therapeutics and Clinical Pharmacokinetics courses. Her clinical and research interest areas include family medicine, infectious diseases, and medication safety.
Dr. Brown obtained his Ph.D. from Washington State University in 2008. His thesis work focused on how regulation of the extracellular matrix impacts learning and memory processes in pathological disease states. Upon completion of his Ph.D., Dr. Brown worked as a postdoctoral associate in Dr. Yan Dong's laboratory studying the development of silent synapses following cocaine self-administration. In 2009, Dr. Brown joined Dr. Julie Kauer's laboratory at Brown University in Providence, Rhode Island, where he studied synaptic plasticity and organized and taught a number of classes. He has currently authored or coauthored more than a dozen peer reviewed articles and has received numerous grants to fund his research goals. Dr. Brown will be teaching Toxicology.

Dr. Bruch received his Bachelor's degree in Mathematics and Science from the University of Wyoming in 1998. He received his Doctor of Pharmacy degree from University of Wyoming in 2010. After working in a community pharmacy for two years, Dr. Bruch joined the UW School of Pharmacy faculty as the Laboratory Coordinator and Pharmacy Practice lab lecturer. He also assists the Physical Assessment and Patient/Professional Interactions laboratories.
Dr. Crumpton graduated from Creighton University in Omaha, Nebraska. She then completed a pharmacy practice residency at Exempla Lutheran Medical Center in Wheat Ridge, Colorado. Dr. Crumpton's practice site is the Cheyenne Family Medicine Residency Program in Cheyenne, Wyoming. She will be teaching in the Therapeutics series of courses.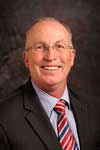 Dr. Staubach joined the School of Pharmacy in March 2012 as an Assistant Professor of Social and Administrative Pharmacy. He received his undergraduate B.A. in chemistry and biology from the University of Dayton. He received his M.D. from the University of Cincinnati followed by post-graduate medical training in Internal Medicine (PGYI) and Diagnostic Radiology from the Christ Hospital and the University of Cincinnati, respectively. Dr. Staubach has also earned an MBA from Xavier University with concentrations in management and marketing.
Dr. Staubach is a seasoned physician-executive and scientist with a proven track record of successfully commercializing products and services over a 24 year career in diverse industries including health care delivery, health insurance, pharmaceutical, OTC, beauty care, and food and beverage. He has built, led, and managed domestic and global cross-functional teams and functional organizations focusing on Phase III/IV drug research, drug information, pharmacovigilance, health economics and outcomes research, CME/CE professional education, and scientific publications. He has also served as a medical and customer marketing director on a $3 billion brand as a member of the marketing department in a leading pharmaceutical company.
Dr. Staubach's teaching interests lie at the intersection of business, the marketplace, and medicine/pharmacy. His corporate teaching experience includes global strategy development and deployment, branding, business to business selling, managed care marketing, and business ethics/compliance. His research interests include the evolving role and relevance of social and administrative science skill sets in improving individual and public health and the identification and resolution of any gaps between current social and administrative pharmacy curricula and marketplace/practice needs.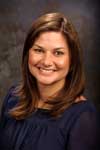 Dr. Thompson received her Doctor of Pharmacy degree from the University of Colorado Skaggs School of Pharmacy and Pharmaceutical Sciences in 2010. She completed a pharmacy practice residency at Exempla Saint Joseph Hospital in 2011 and a residency in Family Medicine/Ambulatory Care at the University of Colorado Skaggs School of Pharmacy and Pharmaceutical Sciences in 2012.
Dr. Thompson's practice setting is located at University of Wyoming Family Medicine Residency Program at Cheyenne where she works in ambulatory care. Her interests include geriatrics, diabetes, women's health, men's health, and cardiovascular risk reduction. Dr. Thompson will be teaching in the Therapeutics I and II courses.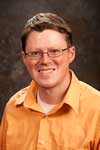 Jeremy Vandiver is extremely excited to be joining the faculty at the University of Wyoming as a Clinical Assistant Professor of Pharmacy Practice, practicing at Swedish Medical Center in Englewood, CO. He is a native of Colorado, having grown up in rural Durango, Colorado, and having completed his graduate and postgraduate education in the Denver-metro area. Upon graduating from the University of Colorado Health Sciences Center with a Doctor of Pharmacy in 2010, he completed a PGY1 pharmacy practice residency at Exempla Saint Joseph Hospital, located in Denver, Colorado. He then went on to complete a PGY2 internal medicine specialty residency, also at Exempla Saint Joseph Hospital.
Dr. Vandiver's primary academic interests include anticoagulation, pain management, and cardiology, but he maintains an active interest in nearly all aspects of inpatient internal medicine. He is passionate about the pharmacy profession, and is eager to begin teaching students in the classroom and hospital setting. He is also looking forward to exploring Laramie and the surrounding areas. He enjoys hiking, snowshoeing, and golfing in his free time, and considers himself a bit of a "film geek." Dr. Vandiver will be teaching in the Clinical Pharmacokinetics and Therapeutics IV courses.
Share This Page: