6th Annual UW CHS Health Fair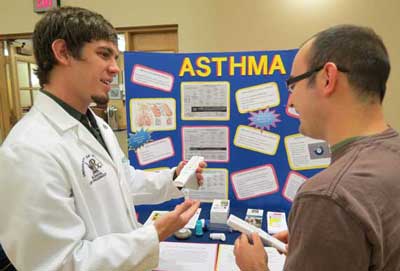 The 6th Annual University of Wyoming College of Health Sciences Health Fair was held Saturday, Nov. 3, in the Wyoming Union. The "Kick-Off to Good Health" fair provided free health screening and testing services which included a blood draw; blood glucose, hemoglobin A1C, and lipid panel testing; blood pressure reading; medication disposal; diabetic foot and osteoporosis screening; asthma counseling; and cardiovascular disease and immunization counseling. Other than a small fee for the blood draw, the services were free of charge.
The annual health fair was organized by the UW School of Pharmacy student chapter of Phi Lambda Sigma, the pharmacy leadership society. The health fair promotes collaboration among the various groups within and outside of the college, as well as provides a variety of valuable, free health-related information and services to the university and Laramie communities.
During the fair, the student chapter of the National Community Pharmacists Association coordinated a "Med Take-Back" event where anyone with unwanted, unused and expired medications were welcome to bring them in for disposal.
Photo: UW Pharmacy student Nathan Fuller explains asthma management methods to a health fair participant. More photos of the health fair can be seen by going to the UW School of Pharmacy Shutterfly website.