Carol Kobulnicky Serves as Faculty Expert for WIND Family-to-Family Health Information Center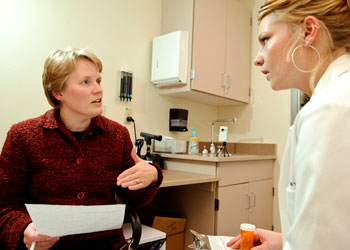 Carol J. Hermansen-Kobulnicky, Ph.D., R.Ph., serves as a family-faculty partner in the Wyoming Institute for Disabilities (WIND) Family-to-Family Health Information Center in Wyoming, which is a state-wide, family-led initiative that provides information, education, training, outreach, and peer support to families of children and youth with special health care needs and the professionals who serve them.

Kobulnicky is a faculty expert on the proper use of medications and is one of several faculty in the College of Health Sciences who participate in the center. She is an associate professor of social and administrative pharmacy in the UW School of Pharmacy. Her research interests include patient advocacy, including shared decision-making and patient symptom self-monitoring and its uses.

WIND recently received a one-year $95,700 grant to become the Family-to-Family Health Information Center in Wyoming, funded by the U. S. Department of Health and Human Services' Maternal and Child Health Bureau. WIND partners with the Wyoming Department of Health's Maternal and Family Health Section and Office of Multicultural Health, UPLIFT-Wyoming's Federation of Families, UW faculty members, families, and Wyoming health professionals to develop and provide health care information.

The center is staffed by trained family leaders who have children with special health care needs and expertise in navigating federal, state, and local public and private health care systems.

Topical information is delivered to families, youth, and health professionals through interactive webinars, fact sheets, social media, and a transition age youth panel. Topics covered include establishing a medical home, exercise, quality family time, preventive health care, safety in/out of the home, oral health, and youth transitioning to adult health care.