Research News from C-CRAM
Members of C-CRAM Present at INBRE National Meeting in Washington, D.C.
Members of C-CRAM presented at the IDeA National Meeting (NISBRE) held in Washington, D.C., in June. Nan (Nick) Hu, Yinan Hua, Sreejayan Nair and Jun Ren presented on behalf of the Wyoming INBRE Program.
Sreejayan Nair presents at ADA National Meeting
Sreejayan Nair presented at the American Diabetes Association National Meeting in Philadelphia in June.
Members of C-CRAM Present at AHA Annual Meeting
Members of C-CRAM presented at the American Heart Association (AHA) Annual Meeting held in Los Angeles, California, in November. Alex Xu, a Ph.D. graduate student from C-CRAM, won the AHA travel award and a presentation award from the joint ACRE-CnAHA symposium in Los Angeles. The following is a list of presentations by C-CRAM members:
Kandadi MR, Panzhinskiy E, Roe ND, Nair S, Ren J. Protein tyrosine phosphatase 1B knockout attenuates obesity-induced cardiomyopathy. Circulation 126: A15595, 2012.

Panzhinskiy E, Hua Y, Culver B, Ren J, Nair S. Endoplasmic reticulum stress regulates protein-tyrosine phosphatase 1B expression and cellular glucose uptake in obesity. Circulation 126: A17023, 2012.

Roe N, Ren J. Cardiac-specific deletion of phosphotase and tensin homolog deleted on chromosome 10 (PTEN) triggers cardiac dysfunction and hypertrophy through impaired PTEN-induced activation of PTEN induced putative kinase 1 (Pink1) and AMP-activated protein kinase (AMPK). Circulation 126: A13531, 2012.

Roe N, Ren J. Folic acid reverses nitric oxide synthase uncoupling and prevents insulin resistance-induced cardiac dysfunction: Role of Ca2+/calmodulin activated kinase II (CaMKII). Circulation 126: A13303, 2012.

Xu X, Hua Y, Sreejayan N, Ren J. Cardiac macrophage migration inhibitory factor activates mitophagy to prevent the exacerbation of pressure overload-induced hypertrophic cardiomyopathy in mice. Circulation 126:A13344, 2012.

Xu X, Ren J. Macrophage migration inhibitory factor knockout exacerbates doxorubicin-induced cardiomyopathy: Role of autophagy. Circulation 126:A13473, 2012.

Zhang Y, Ren J. Mitochondrial aldehyde dehydrogenase 2 (ALDH2) ameliorates angiotensin II-induced cardiac remodeling and myocardial dysfunction through inhibition of mitochondrial oxidative stress and induction of autophagy. Circulation 126:A 19679, 2012.
Members from C-CRAM published over 40 high-impact journal publications in 2012 encompassing basic to clinical research (through collaboration). Among these articles, Megan Zhang published eight articles as a lead author, followed by Maolong Dong (with four), Rui Guo (with three), Subat Turdi (with three), Yinan Hua (with three) and Alex Xu (with three).
Other News from C-CRAM
Dr. Jun Ren has been elected to the editorial board of Diabetes.
Dr. Sree Nair assumed the position of Director for the Biomedical Ph.D. Program at UW in 2012.
Nathan Roe successfully defended his Ph.D. dissertation on 12/11/2012.

Megan Yingmei Zhang, M.D., Ph.D., a former member of C-CRAM and an adjunct assistant professor of pharmaceutical science, received promotion to associate professor in her home institute, the Fourth Military Medical University. She also received two independent grant awards from agencies, including the National Science Foundation, to continue her work here on obesity and cardiovascular health.
Associate Professor Ya-Xiong Tao, from Auburn University, and Associate Professor Jian Yang, from the Fourth Military Medical University, were among the C-CRAM seminar series speakers in 2012.

Professor Maolong Dong, Vice Chief of Burn and Surgery, is a visiting clinical associate professor completing his training in C-CRAM.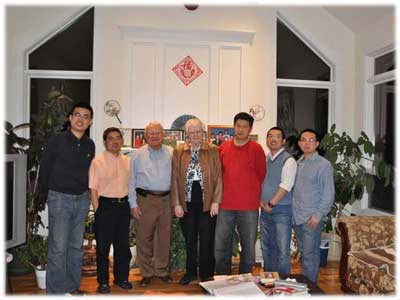 Pictured (L to R) are Jian Yang, Ya-Xiong Tao, Dean John Vandel, Joyce Vandel, Jun Ren, Maolong Dong, and Nan (Nick) Hu.
(Photo courtesy of Jun Ren)