Pam Darrow and Kara Springer Participate at ASHP Midyear Meeting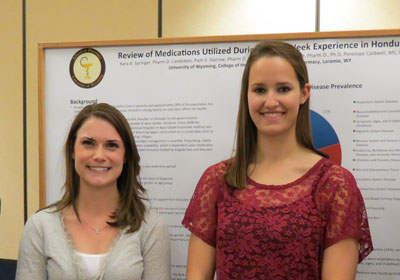 P4s Kara Springer (L) and Pam Darrow (R) represented the UW School of Pharmacy in the Clinical Skills Competition at the 2012 ASHP Midyear Clinical Meeting December 1–6 in Las Vegas, Nevada. They were among a record number of teams representing 120 schools of pharmacy.

While at ASHP, the students not only participated in the competition, but also presented posters on research they had completed during their rotations, participated in the Residency Showcase, and networked with current pharmacy students who will be their colleagues in the near future.

"Having the opportunity to attend this meeting and represent the University of Wyoming School of Pharmacy was really exciting," Darrow and Springer commented. "Not only did we get to participate in a national competition, we had awesome networking opportunities with other students, residents, and pharmacists, and we got to enjoy the city of Las Vegas in our free time!"

They added, "It was important to us to attend this meeting to not only represent the University of Wyoming in the Clinical Skills Competition, but also to get current residents' perspectives of their residency programs and prepare for the next step in our careers as pharmacists. Midyear taught us a lot about the importance of good preparation. Not only did we have to prepare for the clinical skills competition and have our posters finished and ready to present, but prior to the meeting we each spent hours reviewing residency programs of interest, jazzing up our CV's, and generating a list of specific questions to have answered during the Residency Showcase. We also learned how competitive pharmacy residency programs are. We are thankful we worked hard throughout school and were involved in student organizations to help each of us stand out individually as PGY-1 pharmacy resident applicants. From this experience, we feel we gained a lot of insight into potential residency programs and career opportunities. Each of us now has a better idea of exactly what we are looking for in a residency program."