APhA-ASP Provides Multiple Services at 2012 UW Health Fair
by Megan Saunders
Each year at the UW Health Fair sponsored and coordinated by PLS, the student pharmacists of the American Pharmacists Association-Academy of Student Pharmacists (APhA-ASP) take the full opportunity to showcase our knowledge and skills in one (or more) of five different service projects coordinated and executed by our patient care project chairs.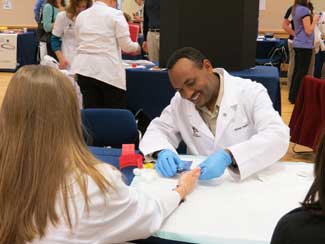 Easily the most visited project is our Operation Diabetes booth that offers blood glucose screenings and diabetic foot exams. Brandon Anderson, a P2, coordinated this year's event with support from his co-chair Ginbar Dasha. Working in collaboration with members of Rho Chi, the academic honor society, student pharmacists helped screen teens, adults and some elderly patients for pre-diabetes and educated them on the results of these screenings. Using a newly purchased Hemoglobin a1C (Ha1C) machine (generously supplied from the physical assessment lab instructor, Dr. Michelle Hilaire) and blood glucometers, we screened the majority of the health fair attendees for blood glucose levels and a select few individuals for Ha1C levels. We had four seats for blood glucose screenings and one area to test Ha1C levels.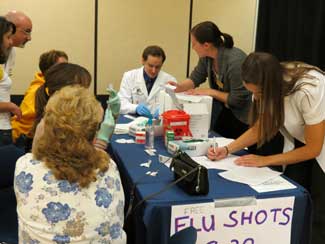 Newer additions to the Health Fair were the student pharmacists available to administer vaccinations at no cost to health fair attendees. Jane Nguyen coordinated our Operation Immunization project this year which provided attendees with information regarding multiple vaccinations including influenza, shingles and HPV (some materials generously provided by Merck). Student pharmacists just received the authorization to begin giving immunizations last year in the state of Wyoming, and we were proud to vaccinate approximately 27 community members, students, and staff of the University through this project! Phi Lambda Sigma incurred the full cost of the immunizations (approximately $570) so that we could provide them for free.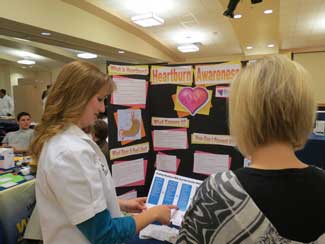 The Heartburn Awareness Challenge had a successful booth this year, as well, offering attendees information regarding OTC management of heartburn including a flow-chart showing the different types of medications available. The week following the Health Fair, the Heartburn Awareness Challenge also took a seat at the campus-wide fall chili cook off. And next semester, we hope to be on hand with some much-needed samples of OTC medications.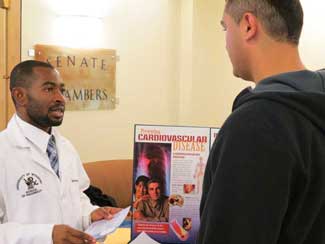 Operation Heart had a booth this year working in collaboration with the Student Nurses Association to assess attendees' cardiovascular health, including blood pressure screenings by the nursing students. Samuel Ihunwaeze was charged with Operation Heart this year, and not only worked with the nursing students, but worked hard to elicit passion for this project from our student pharmacists!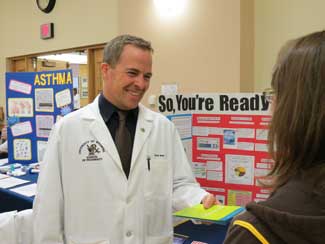 Finally we had a booth disseminating information regarding tobacco and smoking cessation. This booth is coordinated by our International Pharmaceutical Students Federation (IPSF) chair. Travis Beck coordinated the booth this year and was able to educate attendees about the risks of smoking and smokeless tobacco use. This project is very important especially over the past few years during the debate regarding whether the University of Wyoming should be a tobacco-free zone.
Overall the UW chapter of the APhA-ASP feels that we had a very successful Health Fair experience this year. We are hoping to expand our patient care projects to include additional community-education events as well as further interprofessional collaboration with other health care students on campus.