NCPA Offers Medication Disposal and Education at 2012 Health Fair
by Forrest Floyd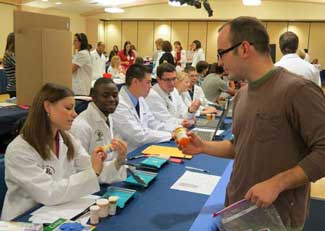 The UW Student Chapter of the National Community Pharmacists Association (NCPA) offered Medication Disposal and Medication Safety Education to the public at the 6th Annual CHS Health Fair. Many community members came to this table to learn how to properly dispose of unused, expired, or discontinued medications at home. Proper disposal is crucial to keeping medications out of local water supplies and out of the hands of others.
In addition, the NCPA group teamed with local law enforcement and received approximately 75 medications for disposal. The total value of these unused medications was estimated to be about $2,500. The medication types ranged from over-the-counter products to controlled substances.
Data about the returned medications was obtained for future use as a research project by the group to determine how this waste can be avoided. A total of 15 student NCPA members participated along with Dr. Melissa Hunter, the group's faculty advisor.