6th Annual College of Health Sciences Kick-Off to Good Health Fair
by Kendra Whalen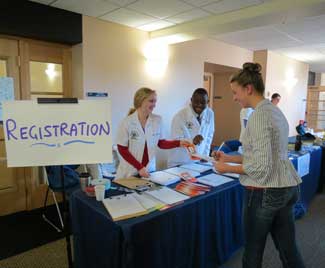 On November 3, 2012, the University of Wyoming chapter of Phi Lambda Sigma (PLS), the pharmacy leadership honorary, hosted the 6th Annual College of Health Sciences Health Fair. Many professions participated to provide over 100 Wyoming students and the Laramie community with services and health promotion booths.
Services provided by pharmacy students included free influenza vaccinations, lipid screenings, osteoporosis heel scans, hemoglobin A1C and blood glucose level testing, and informational booths on smoking cessation, asthma, and heart health. In cooperation with the Generation Rx program, a special booth for kids about the importance of differentiating between medicine and candy was provided. Students also held a medication disposal service, which donated medications that qualified to the Wyoming Medication Donation Program through the Wyoming Department of Health.
Beyond the School of Pharmacy, Wyoming Health Fairs, the WWAMI program, School of Nursing, dietetics program, Alcoholics Anonymous, several community health professionals and many pre-professional students also participated to provide important services such as full blood panels, blood pressure measurements, hand washing learning activities, oral hygiene, acupuncture and nutritional support. It was truly a great interdisciplinary experience.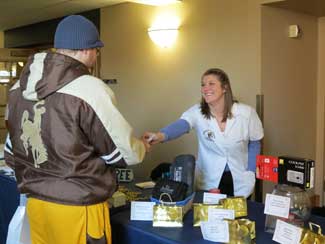 This year PLS created a more extensive raffle prize system for participating patients, which included nine total prizes. The raffle system was extremely successful in getting patients to participate in multiple booths and allowed PLS the opportunity to get critical feedback on the success of the Health Fair. The success of the Health Fair was seen in the participants' positive responses given on the feedback form. Some of the comments PLS received were, "All of it rocked; information wise," and in response to the question, "What was done well?" one patient remarked, "The information about cancer and medicine, the treatment of medicine that we don't use and so on… I think is very pertinent." The 6th Annual Kick-Off to Good Health was a wonderful experience for all those who participated.