Rho Chi Provides Lipid Panel Screening & Hemoglobin A1C Tests at Health Fair
By Ryan Randall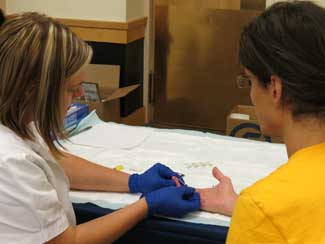 During the 6th Annual College of Health Sciences Health Fair, Rho Chi, the pharmacy honorary, performed lipid panel screening and hemoglobin A1C tests while providing information to the public about nonpharmacological lifestyle changes they can make to help lower bad cholesterol and raise good cholesterol. A total of 18 lipid panels were completed.

Each panel took about 10-15 minutes to perform, and there was only one working machine available. A second machine was malfunctioning from the beginning of the health fair and was quickly taken away. Only having one working lipid machine was disappointing not only to the Rho Chi members but also the public who wished to have their lipids checked.

Rho Chi also checked HbA1C levels of diagnosed diabetics. This test also took about 10 minutes to perform. Five of these tests were performed.

Participation by Rho Chi members was great, all but one member worked the booth at some point during the day. The student participants learned a lot about how to work with the public, how to work with testing machines, and how to successfully draw blood through a finger prick. This experience was a lot of fun and a great learning tool.