December 2012 News Articles
University of Wyoming School of Pharmacy news for the fourth quarter of 2012
John Vandel, Dean of the UW School of Pharmacy, to Retire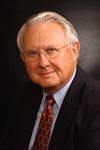 John Vandel, Dean of the University of Wyoming School of Pharmacy, will retire at the end of December. Following a long and distinguished career as a community pharmacist, Vandel was named the interim dean at the school in 2003 and then dean in 2004. A reception in his honor, attended by many members of the UW community, family, and friends, was held Thursday, Dec. 6, in the College of Health Sciences Surge Area.
Linda Gore Martin Named New Dean of UW School of Pharmacy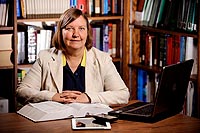 Linda Gore Martin has been selected as the new dean of the School of Pharmacy in the University of Wyoming College of Health Sciences beginning in January. The appointment will become official upon the Board of Trustees' approval in January. A graduate of Creighton University (Pharm.D. '98) and UW (M.B.A. '79 and Bachelor of Science in pharmacy in 1975), Martin previously was the pharmacy school's associate dean of Operations and Academic Affairs.
Read news and updates about Lindsey Poppe and Susie Jing Shaw. The University of Wyoming School of Pharmacy would like to help you share news about you and your family with your classmates and colleagues! News and updates can be about anything, including your job, appointments, promotions, training, certifications, awards, presentations, marriages, births of children or grandchildren. We want to hear from you! Let us know of happenings in your life and we will share them in our new "Alumni News" feature in our newsletters.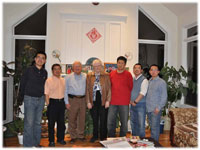 Researchers from the Center for Cardiovascular Research and Alternative Medicine (C-CRAM) recently presented at the IDeA National Meeting, the American Diabetes Association National Meeting, and the American Heart Association Annual Meeting. Members of C-CRAM also published over 40 high-impact journal publications in 2012 encompassing basic to clinical research. In addition to other news, Dr. Jun Ren has been elected to the editorial board of Diabetes and Dr. Sree Nair has assumed the position of Director for the Biomedical Ph.D. Program at UW.
Pam Darrow and Kara Springer Participate at ASHP Midyear Meeting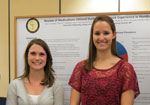 P4s Pam Darrow and Kara Springer represented the UW School of Pharmacy in the Clinical Skills Competition at the 2012 ASHP Midyear Clinical Meeting December 1–6 in Las Vegas, Nevada. They were among a record number of teams representing 120 schools of pharmacy. While at ASHP, the students not only participated in the competition, but presented posters on research they had completed during rotations, and participated in the Residency Showcase.
Jesse Reilly and Andrew Grothen Present Poster at ASHP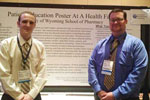 P4 Jesse Reilly and P3 Andrew Grothen attended the 2012 ASHP Midyear Clinical Meeting December 1–6 in Las Vegas, Nevada, to present a poster detailing the Wyoming chapter of the American Society of Health-System Pharmacists Student Societies of Health-System Pharmacy's (ASHP-SSHP) asthma booth at the health fair that was held in November.
Meghan Kolf Chosen for 2012 UW Gold Recognition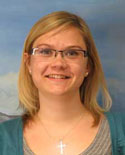 During Homecoming in October, Pharmacy student Meghan Kolf (class of 2016), from Douglas, Wyo., was one of six University of Wyoming students named UW Gold winners for 2012. UW Gold is a scholarship based on leadership, scholarship, and service achievements, sponsored by Cardinal Key, the UW junior honor society. The tradition is a way for leading students to be recognized by their peers, the university and the state, and replaces traditional Homecoming royalty.
Students Learn Motivational Interviewing Skills through Fishbowl Activity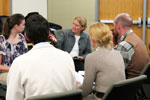 Carol J. Hermansen-Kobulnicky, Ph.D., R.Ph., associate professor of social and administrative pharmacy, held two "fishbowl" activities as lab experiences in the Patient/Professional Interactions course this year to teach students motivational interviewing skills. Students played the role of pharmacist together (in groups of two or three) with a simulated patient to address that patient's behavioral change need. Fellow students and the facilitators (course instructor and master's student in social work) sat encircling them as active observers.
Carol Kobulnicky Serves as Faculty Expert for WIND Family-to-Family Health Information Center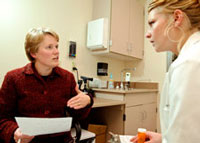 Carol J. Hermansen-Kobulnicky, Ph.D., R.Ph., serves as a family-faculty partner in the Wyoming Institute for Disabilities (WIND) Family-to-Family Health Information Center in Wyoming, which is a state-wide, family-led initiative that provides information, education, training, outreach, and peer support to families of children and youth with special health care needs and the professionals who serve them.
6th Annual College of Health Sciences Kick-Off to Good Health Fair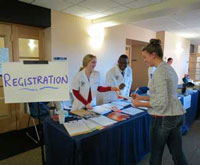 On November 3, 2012, the University of Wyoming chapter of Phi Lambda Sigma (PLS), the pharmacy leadership honorary, hosted the 6th Annual College of Health Sciences Health Fair. Many professions participated to provide over 100 Wyoming students and the Laramie community with services and health promotion booths.
APhA-ASP Provides Multiple Services at 2012 UW Health Fair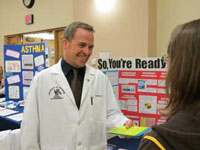 Each year at the UW Health Fair sponsored and coordinated by PLS, the student pharmacists of the American Pharmacists Association-Academy of Student Pharmacists (APhA-ASP) take the full opportunity to showcase our knowledge and skills in one (or more) of five different service projects coordinated and executed by our patient care project chairs.
NCPA Offers Medication Disposal and Education at 2012 Health Fair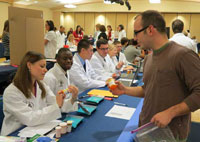 The UW Student Chapter of the National Community Pharmacists Association (NCPA) offered Medication Disposal and Medication Safety Education to the public at the 6th Annual CHS Health Fair. Many community members came to this table to learn how to properly dispose of unused, expired, or discontinued medications at home. Proper disposal is crucial to keeping medications out of local water supplies and out of the hands of others.
Phi Delta Chi Hosts Osteoporosis Screening at Health Fair

The Alpha Mu chapter of Phi Delta Chi hosted an Osteoporosis Screening at the 2012 College of Health Sciences Kick-Off to Good Health Fair. This patient care project included three different stations: sign in and a pre-screening questionnaire, the actual screening itself, and a counseling session about good bone health. A total of 64 individuals went through the screening process and included a good mix of university students, faculty and other community members.
Rho Chi Provides Lipid Panel Screening and Hemoglobin A1C Tests at Health Fair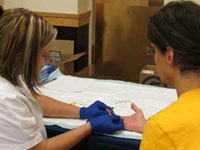 During the 6th Annual College of Health Sciences Health Fair, Rho Chi, the pharmacy honorary, performed lipid panel screening and hemoglobin A1C tests while providing information to the public about nonpharmacological lifestyle changes they can make to help lower bad cholesterol and raise good cholesterol. A total of 18 lipid panels were completed.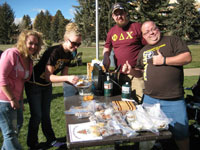 The 2012 Chili Cook Off was hosted for the third year by Engineers Without Borders (EWB) and Phi Delta Chi. Seven groups had entries in the cook off including EWB, Phi Delta Chi, Pi Beta Phi, NCPA, and Phi Delta Theta. NCPA won the cook off and took home a $100 prize. The event raised $300 to support water and healthcare projects in Guatemala.
Lauren Biehle Published in AJHP
An article by Lauren Biehle, Pharm.D., BCPS, clinical assistant professor of pharmacy practice, was recently published in the American Journal of Health-System Pharmacy (AJHP). The article titled, "Significant publications on infectious diseases pharmacotherapy in 2011," (Truc T. Tran, Nicholas D. Beyda, Lauren R. Biehle, Jessica M. Cottreau, Kelly Echevarria, William L. Musick, Katherine K. Perez, and Amy N. Schilling on Behalf of The Houston Infectious Diseases Network) was a Special Feature in the October 1, 2012 issue of AJHP.
Researchers Present at Front Range Neuroscience Group Annual Meeting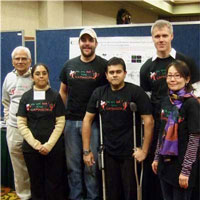 Baskaran Thyagarajan, M.Pharm., Ph.D., and researchers from BaskiLab presented at the Front Range Neuroscience Group Annual Meeting at the Hilton Fort Collins in Fort Collins, Colorado, on November 28. Dr. Thyagarajan gave a presentation at the meeting during the "new Lab DATA BLITZ" titled, "TRP Channel Proteins: Truly Remarkable Proteins in Physiology and Disease." The research team also presented three posters at the meeting.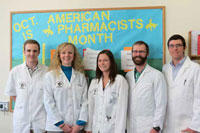 American Pharmacists Month (APhM) in October recognizes pharmacists for their vital contributions to health care. In recognition of APhM, UW Pharmacy students put up a display in the College of Health Sciences building honoring APhM and to recognize pharmacists' commitment to patient care and their contributions in all practice settings.
Linda Gore Martin Featured in ASHP "in the Spotlight"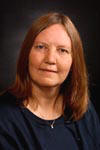 Linda Gore Martin, SOP Associate Dean of Operations and Academic Affairs and Associate Professor of Social and Administrative Pharmacy, was recently  featured "in the Spotlight" of the American Society of Health-System Pharmacists (ASHP) Clinical Specialists and Scientists.