Meghan Kolf Chosen for 2012 UW Gold Recognition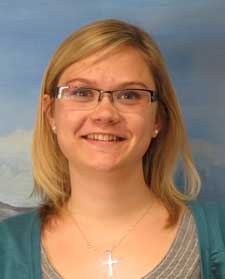 During Homecoming in October, Pharmacy student Meghan Kolf (class of 2016), from Douglas, Wyo., was one of six University of Wyoming students named UW Gold winners for 2012. Sponsored by Cardinal Key, the UW junior honor society, the scholarship is based on leadership, scholarship, and service achievements and offers a way for leading students to be recognized by their peers, the university, and the state and replaces traditional Homecoming royalty.

Twelve semi-finalists were chosen to give a five-minute presentation on leadership. Kolf's spoke about "new medication on the market" called "Leadershiplex" during which she drew an analogy between leadership and medication (e.g. side effects of leadership include change, empowerment, and teamwork, etc.). The six finalists were chosen after the presentations.

Kolf's achievements include serving as an ASUW Senator for the College of Health Sciences and ASUW President Pro Tempore; vice president of administration for the Delta Delta Delta sorority; community service for the Ivinson Home for Aged Ladies, and fund raising for St. Jude Children's Research Hospital.

"I feel very honored and humbled to be recognized as a UW Gold Finalist," says Kolf, "and I am thankful to have the opportunity to serve this campus through various leadership roles."

The 2012 UW Gold finalists were announced at the UW Homecoming Sing. They rode in the Homecoming parade and were introduced at halftime during the UW-Air Force football game.