Jesse Reilly and Andrew Grothen Present Poster at ASHP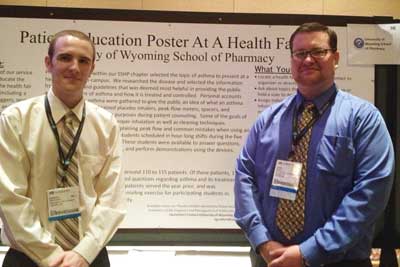 P4 Jesse Reilly (R) and P3 Andrew Grothen (L) attended the 2012 ASHP Midyear Clinical Meeting December 1–6 in Las Vegas, Nevada, to present a poster detailing the Wyoming chapter of the American Society of Health-System Pharmacists Student Societies of Health-System Pharmacy's (ASHP-SSHP) asthma booth at the health fair that was held in November.
"Our poster titled, 'Patient Education Poster at a Health Fair,' explained that the objective of the ASHP-SSHP service project was to educate the attendees of the health fair about asthma including description, triggers, severity levels, control, and treatment," says Reilly. "We concluded that about 110 to 115 patients attended the health fair. Of these total patients, 15 requested demonstrations and asked questions regarding asthma and its treatment, which represented an increase from 7 patients served the year prior. The project was an excellent patient counseling exercise for participating students in addition to its value to the community."
He adds, "Many SSHP brought posters detailing some of the activities they had done over the year. I saw a lot of great ideas that I believe the University of Wyoming SSHP could reproduce to benefit our community. I also think this showcase is a great way to not only spotlight our achievements and good ideas, but to work collectively as student pharmacists with other schools of pharmacy to bring the most benefits to our patients and communities across the country."
In addition to attending the SSHP showcase where the poster was presented, Reilly also attended the Residency Showcase at ASHP.