Baskilab Researchers Present Posters at Biophysical Society Meeting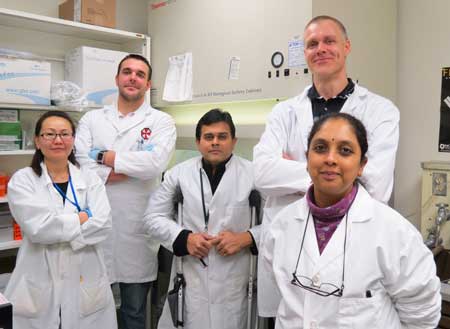 Dr. Baskaran "Baski" Thyagarajan's research group attended the 57th Annual Meeting of the Biophysical Society February 2–6 in Philadelphia, Pennsylvania.
During the meeting, the Baskilab group presented their exciting recent research on the antinociceptive potentials of neurotoxin as well as the differential mechanisms by which atorvastatin, a lipid lowering drug, modulates the functions of heat and cold activated transient receptor potential (TRP) ion channel proteins.
These novel data open a new paradigm in the therapeutic uses of atorvastain against neurodegeneration and cancer, where the heat and cold activated channels are implicated, respectively.

The Biophysical Society's annual meeting brings together over 6,000 research scientists and is the largest meeting of biophysicists in the world.
photo:
Researchers from the Baskilab at the University of Wyomng School of Pharmacy presented posters at the Biophysical Society Meeting in Philadelphia in February. (L to R) Bayasgalan Surenkhuu, Kenneth Brenneman, Baski Thyagarajan, Kormakur Hognason, and Padma Baskaran.