Alumni Christi Swaby and Cody Plaisted Commissioned as Officers in USPHS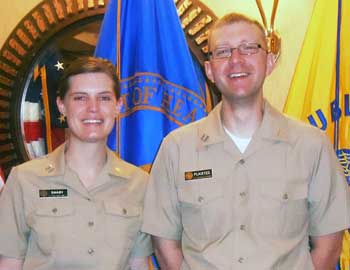 UW School of Pharmacy alumni Christi Swaby (Pharm.D. '11) and Cody Plaisted (Pharm.D. '11) were commissioned as officers in the United States Public Health Service (USPHS) on March 1. Lieutenant Swaby's current duty station is with the Rapid City Public Health Service (PHS) Indian Hospital in Rapid City, South Dakota. Lieutenant Plaisted also works with the Indian Health Service, more specifically with Tuba City Regional Health Care Corporation at Sacred Peaks Health Center in Flagstaff, Arizona.

The USPHS Commissioned Corps is overseen by the Surgeon General and is one of the seven uniformed services of the U.S. whose main focus is that of public health. Its mission is to protect, promote, and advance the health and safety of our Nation.
More than 6,500 Commissioned Corps officers work on the front lines of public health—fighting disease, conducting research, and caring for patients in underserved communities.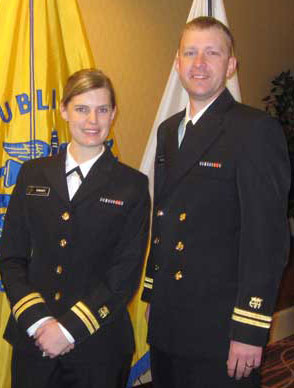 "As a United States Public Health Service (USPHS) officer, I am privileged to use my knowledge and skills as a pharmacist to help protect and promote the health of my Nation and its citizens," says Swaby. "This incredible opportunity also allows me the possibility of deployment so that I can be where I am most needed when public health emergencies occur."

Plaisted adds, "Getting a commission is a great opportunity and privilege. I wanted to work for the United States Public Health Service since before I entered pharmacy school. It has been my goal for over eight years to become a PHS officer and I am thrilled that this opportunity has finally found me."

Corps officers serve in 15 careers in a wide range of specialties within Federal agencies such as the National Institutes of Health (NIH), the Centers for Disease Control and Prevention (CDC), Food and Drug Administration (FDA), Indian Health Service (IHS), and the Bureau of Prisons (BOP). Officers may also have the opportunity during their career to assist in public health emergencies such as natural or man-made disasters.
photos:
UW School of Pharmacy alumni Christi Swaby and Cody Plaisted (both Pharm.D. '11) were recently commissioned as lieutenants in the United States Public Health Service Commissioned Corps. Swaby and Plaisted are both serving in the Indian Health Service. (photos courtesy of Lieutenant Christi Swaby)