March 2013 News Articles
University of Wyoming School of Pharmacy news for the first quarter of 2013
Past news articles about University of Wyoming School of Pharmacy alumni, faculty, staff, researchers, and students. We invite you to also check out other past news articles on the News Archives webpage. The school distributes both a quarterly electronic newsletter, the News Capsule, and an annual report and newsletter, Wyoming Scripts. Current and past issues of these newsletters can be found on the Newsletters webpage.
---
First Quarter 2013
School of Pharmacy Launches Aspire Program
The UW School of Pharmacy is pleased to announce the launch of the Aspire Program. The goal of the new program is to recruit and retain high-achieving freshman students for the Doctor of Pharmacy program, and to maximize their academic success and leadership as future professionals.
UW Pharmacy Student Lisa Ohnstad Inspires Others to Pursue Pharm.D./MBA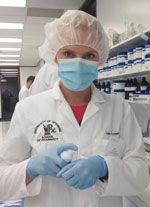 UW Pharmacy student Lisa Ohnstad (class of 2015) from Weston, Wyoming, is the first student at UW pursuing a dual education in the Pharm.D./Executive MBA program. She shares her insights and experiences to inspire other students to pursue the dual degree. She has received several honors recognizing her accomplishments and leadership skills. Ohnstad's achievements are remarkable considering she is balancing the rigors of both programs, a military career, and spending time with her family.
Alumni Christi Swaby and Cody Plaisted Commissioned as Officers in USPHS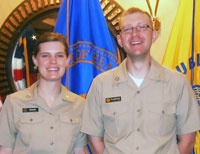 UW School of Pharmacy alumni Christi Swaby (Pharm.D. '11) and Cody Plaisted (Pharm.D. '11) were commissioned as officers in the United States Public Health Service (USPHS) on March 1. Lieutenant Swaby's current duty station is with the Rapid City Public Health Service (PHS) Indian Hospital in Rapid City, South Dakota. Lieutenant Plaisted also works with the Indian Health Service, more specifically with Tuba City Regional Health Care Corporation at Sacred Peaks Health Center in Flagstaff, Arizona.
Michelle Hilaire Published in AJPE
Michelle Hilaire, Pharm.D., CDE, BCPS, clinical associate professor of pharmacy practice, recently had an article published in the American Journal of Pharmaceutical Education (AJPE) titled, "Essential Elements for a Pharmacy Practice Mentoring Program." The article was the final work of the 2011-2012 AACP Pharmacy Practice Faculty Development Committee on which Hilaire served.
IPPE Study by Janelle Krueger Published in AJPE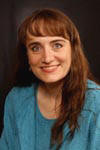 Janelle Krueger, M.S., R.Ph., clinical assistant professor of pharmacy practice and director of the Experiential Education Program at the UW School of Pharmacy, had an article published in the March issue of the American Journal of Pharmaceutical Education (AJPE) titled, "Pharmacy Students' Application of Knowledge From the Classroom to Introductory Pharmacy Practice Experiences."
P2 Cassandra Hardester Wins Patient Counseling Competition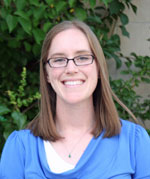 UW School of Pharmacy P2 Cassandra Hardester (class of 2015) placed first in the 2012-2013 American Pharmacists Association–Academy of Student Pharmacists (APhA-ASP) patient counseling competition held in January. Brandon Anderson and Kali Autrey (both class of 2015) tied for second place and Tracey Le (class of 2014) placed third. The winner from each school was invited to compete at the national competition held March 1–4, 2013 in Los Angeles, California, in conjunction with the APhA Annual Meeting & Exposition.
UW Pharmacy Faculty Published in Pharmacotherapy Principles and Practice



The third edition of Pharmacotherapy Principles and Practice features chapters written by three University of Wyoming School of Pharmacy clinical faculty members. Melissa Hunter, Pharm.D., Michelle Hilaire, Pharm.D., CDE, BCPS, and Jaime Hornecker, Pharm.D., BCPS, contributed chapters to the therapeutics-based textbook.
Baskilab Researchers Presents Posters at Biophysical Society Meeting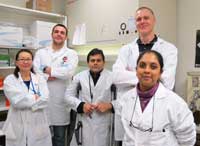 Dr. Baskaran "Baski" Thyagarajan's research group attended the 57th Annual Meeting of the Biophysical Society February 2–6 in Philadelphia, Pennsylvania. During the meeting, the Baskilab group presented two posters about exciting results from their recent research concerning antinociceptive potentials of neurotoxin and differential mechanisms of atorvastatin.
Michelle Hilaire and Tonja Woods Diabetes Article Published in Formulary

Clinical Associate Professors of Pharmacy Practice Michelle Hilaire, Pharm.D., CDE, BCPS, and Tonja Woods, Pharm.D., CGP, recently had a review article published in the journal Formulary. Their publication titled, "Type 2 Diabetes: A Focus on New Guidelines," was the feature article in the February 2013 issue. The article focused on current recommendations for the treatment of type 2 diabetes and methods of controlling co-occurring conditions.
Thyagarajan Research Team's Capsaicin Study Featured in Bio Prep Watch
Findings from a study by Assistant Professor of Pharmaceutics Baskaran Thyagarajan, M.Pharm., Ph.D., and his research team were featured in Bio Prep Watch in February. The article by Bryan Cohen in the "Medical Countermeasures" news category is titled, "Wyoming Researchers Demonstrate Capsaicin Effectiveness Against Botulinum."
Yinan Hua Receives Prestigious Chinese Government Award for Outstanding Self-Financed Students Abroad


Yinan Hua, M.D., M.S., a graduate student in the UW Biomedical Sciences Ph.D. Program, was recently notified that she has been named a recipient of the Chinese Government Award for Outstanding Self-Financed Students Abroad. The annual award is a prestigious national award in China. It recognizes top Chinese Ph.D. students across all fields of study in the world who work abroad without receiving financial support from the Chinese government. Hua's advisor is UW School of Pharmacy Associate Professor of Pharmacology Sreejayan Nair, Ph.D.
Baskaran Thyagarajan Receives Prestigious AACP New Investigator Award
Assistant Professor of Pharmaceutics Baskaran Thyagarajan, M.Pharm., Ph.D., is one of seventeen recipients of the highly competitive American Association of Colleges of Pharmacy (AACP) New Investigator Award for 2012–13. Thyagarajan received start-up funding from AACP for his research program "Capsaicin Antagonizes Botulinum Neurotoxin A at the Motor Nerve Terminals."
Lanae Salveson and Janna Crumpton Receive BCPS Certification
Lanae Salveson, Pharm.D., BCPS, and Janna Crumpton, Pharm.D., BCPS, both UW School of Pharmacy clinical assistant professors of pharmacy practice, were recently granted certification as Board Certified Pharmacotherapy Specialists (BCPS) by the Board of Pharmacy Specialties.
Michelle Hilaire Participates in Great Expectations Speaker Series
Clinical Associate Professor of Pharmacy Practice Michelle Hilaire, Pharm.D., participated in the Great Expectations Speaker Series at the 2012 American Society of Health-System Pharmacists' Midyear Clinical Meeting in Las Vegas, Nevada, in December. Hilaire presented "A Practitioner's Guide to a Winning Career in Patient Care, Teaching and Scholarship" during the well-attended session.
---