UW Pharmacy Student Lisa Ohnstad Inspires Others to Pursue Pharm.D./MBA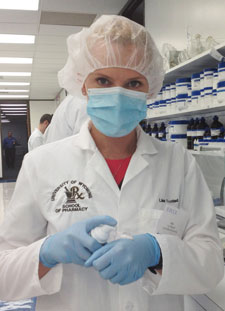 UW Pharmacy student Lisa Ohnstad (class of 2015) from Weston, Wyoming, is the first student at UW pursuing a dual education in the Pharm.D./Executive MBA program. The doctor of pharmacy/executive MBA candidate has received several honors recognizing her accomplishments and leadership skills. Her achievements are remarkable considering she is balancing the rigors of both programs, a military career, and spending time with her family.
Ohnstad is a second lieutenant in the Wyoming Air National Guard and was named a Tillman Military Scholar for the 2012-2013 academic year. After receiving the prestigious award, she participated in the Pat Tillman Leadership Summit last summer where the Tillman Foundation brought the fourth class of Tillman Military Scholars together at the University of Maryland to participate in service and leadership projects. The UW scholars also met with Wyoming's members of Congress and mentors in the business world.
Ohnstad was recently notified that she has been selected to represent UW at the National Conference for College Women Student Leaders at the University of Maryland May 30–June 1.  Students were selected based upon their demonstrated interest in improving the learning experience for female students at UW and their involvement within the university. In addition to attending the national conference and other activities, as part of the Women's Leadership Program she will be involved in planning and implementing the UW Women's Leadership Conference in the fall of 2013.
To encourage other students to consider the Pharm.D./MBA dual degree, Ohnstad has kindly agreed to share her insights about the importance of the program and her experiences as a Tillman Military Scholar and as a member of the Wyoming Air National Guard.
What advice do you have for prospective students about the Doctor of Pharmacy/MBA dual degree program?  Why would you recommend it?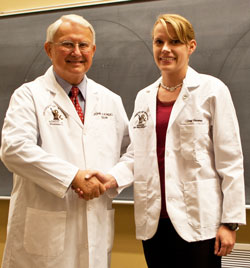 I had always wanted to work in the health care industry and when my husband was called to active duty, I felt it was the right time for me to return to college. I considered several health care programs while I was returning to college, and pharmacy fit the things with my personality and the things that I liked to do for work. Pharmacy combined the insurance background that I had with my love of details and would allow me to live in Wyoming and contribute to the states' health care. So I set the goal of receiving my Doctor of Pharmacy degree so that I could, along with my husband, stay in the state we know and love—and I wanted work in health care. While applying for pharmacy school, I also applied to the MBA program, initially as a backup plan, but in the back of my mind it was also a challenge if I could do both programs. As I already had my undergraduate degree, I knew I would need upper division courses outside of the school of pharmacy or health sciences. I saw an opportunity to do both while achieving both course requirements simultaneously. After receiving acceptance into both programs, and with assistance from both departments, I was able to dual enroll. So my recommendation is go to school for what you want to do, and can be engaged, energized and passionate about.
I would highly recommend the Doctor of Pharmacy/Master of Business dual degree program at the University of Wyoming. However, I would also recommend the five-year, on-campus program. This new option allows the student time to focus on each individual program. As a nontraditional student returning to college with a family, the intense course load (20 credit hours) and the external department requirements can be daunting. Being a dual student has its opportunities as well, bringing in new influences, contacts and opportunities, and has allowed me to consider options of working in management directly out of college. In the current health care market employers are actively seeking employees with a high level health care experience and medical-based degree combined with a master in business.
How has pursuing the Pharm.D./Executive MBA made a difference in your experiences during rotations so far and how may it help in future rotations?
Having the dual degree program provided me with more opportunities on my initial P2 rotations. While on my community pharmacy rotation, my preceptor allowed me to shadow in the management aspect of the community pharmacy. On my first hospital rotation, my preceptor also had an MBA degree and was very positive how it would increase my ability to help facilitate better medication management. In addition, because of my course work in the MBA, and in-depth experience with software programs like Microsoft Access and Excel, I was able to prepare and set up programs that would facilitate medication reconciliation for patients who were being treated between the clinic and specialty clinics. I was also able to take the filled prescription medication data and create a program that would analyze the data and generate easy to read graphs. The graphs measured and compared the numbers of prescriptions by quarter over several years. I programmed the resulting graphs to generate a report that could be presented at the medication review meetings. Being able to combine the MBA knowledge and skills with my intro rotation provided me with unique opportunities.
What will the Pharm.D./Executive MBA mean to you as a member of the Wyoming Air National Guard 187th Aeromedical Evacuation Squadron?
In the Wyoming Air National Guard, I am a Medical Services Core Officer (MSC) 2Lt. In the civilian world, the closest comparison is a hospital administrator, however, in the Aeromedical Evacuation, the hospital is mobile and on a plane. It will take several years of training before I am fully qualified to deploy as an MSC. However, as an MSC Officer I will be relying heavily on my knowledge and skills developed through the MBA program. My pharmacy degree will provide me with a medical knowledge base to be able to understand and translate what is going on medically, but 99 percent of my job will directly relate to the business aspects of coordination, logistics, personnel, and time management. I have been honored to serve in the Wyoming National Guard for five years and will continue to do so after I complete my degrees. My dual degree program will help me serve in a greater capacity at home and abroad. (watch a video of Lisa's unit training)
How will the Pharm.D./Executive MBA help you as a pharmacist in rural Wyoming?
For my husband and me, growing up in Wyoming was a great experience and we want the same life for our son. When I graduated with my first degree, I was unable to find a job in Wyoming where I could support myself and had to work out-of-state for a short time. I worried during my first year of school about finding a job in Wyoming when I graduated because of the economic downturn. However, last summer during rotations and in leadership conferences, my dual degree provided opportunities I hadn't considered that will allow my family to continue to live in Wyoming. With the dual degree, I will not only be able to work as a pharmacist in direct patient care, but I can also consider working remotely with larger corporations in management and consulting positions.
What has being a Tillman Military Scholar meant to you?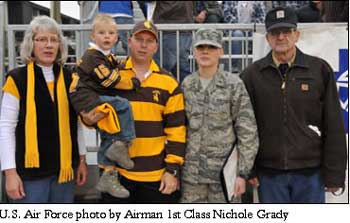 I feel honored and humbled to be named a Tillman Military Scholar. As someone who serves, we sign up to serve with the understanding that we may not come home. It is a blessing that Pat Tillman and his family, who have paid the ultimate price, are willing to continue to serve our country through supporting veterans' and their families' educational goals. Receiving the scholarship was an unexpected blessing; it has enabled me to focus on school versus worrying about working more hours to try to pay for school. My husband and I both work; however, it is not enough to live on while paying out-of-pocket for two of the most expensive programs at the university while supporting a household. There was no room for error and the immense stress was getting to be overwhelming.
This scholarship is inspiring in its namesakes' story, the foundation's program requirements, and the sum of the two has motivated me in way I did not know I could be motivated. It has also allowed me and my family to continue to pursue my educational dream of the dual degree without having to take a break from school; a break that I was very much on the verge of taking so that I could help support our family and build our income and savings back up.
What opportunities have you had as a Tillman Military Scholar to provide service and leadership?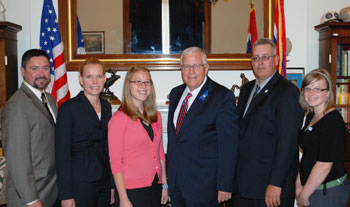 The Tillman Foundation brought the fourth class of Tillman Military Scholars together at the University of Maryland for the Pat Tillman Leadership Summit last summer. Not only did we participate in great learning opportunities, we were able to participate in service and leadership projects. The best part of the entire summit for me was a day of service in the surrounding nearby communities. Because I was the Wyoming cowgirl who grew up riding and was a horse-crazy little girl myself, I chose to participate in a day of service at Horses for Heroes in Crownsville, Maryland. The center provides riding therapy to physically, mentally, emotionally disabled children and veterans. We built a trail that allowed participants to further increase therapy of their upper body through activities such as writing on a chalk board while riding. It was a blessing to be able to give back by providing the center with more physical therapy opportunities for riders.
We met with Wyoming's members of Congress and we were able to meet mentors in the business world and ask questions. While at the summit, we received the opportunity to participate in the Dear World Project. In my statement to the world, I represented that I was from Wyoming, and a cowgirl, with Let'er Buck.
What are your future plans while a Scholar?  What service projects and leadership opportunities will you be involved with while at UW?
I have the honor of being in the fourth class of Tillman Military Scholars and I hope to help support the VA Center and the other veterans on the UW campus. Currently, I plan to do this with service projects and leadership opportunities. We are in the process of beginning a mentoring program for incoming student veterans and are working on projects that encourage women veterans. On September 11, through the VA center and the Association of Student Veterans, we partnered together with the Army ROTC Cowboy Battalion and Phi Delta Chi to meet the challenge set by the Albany County 4-H Young Leaders to collect food and bags for the Albany County Backpacks for Food program. On April 20, , as part of being a Tillman Military Scholar, I have the honor of running in the 9th annual Pat's Run in Denver, Colorado. We are looking for anyone from Wyoming to run with me and represent our great state, and support the Tillman Foundation so that they can support veterans and their families' educational goals.
How will the experiences of being a Tillman Military Scholar impact your future plans as a pharmacist?
My experiences as a Tillman Military Scholar have had a profound impact on my future plans as a pharmacist. Through the Pat Tillman Leadership Summit, I learned of aspects in pharmacy that I never thought of like working in consulting and management in the health care industry. In addition to new ideas, it brought me into contact with organizations with whom I can volunteer and use my pharmacy degree on humanitarian missions across the country and the world as soon as I graduate. I really look forward to the future. After I graduate, I plan to give back by using my pharmacy degree in areas in need of medical care.
photos:
(top): UW Pharm.D./MBA candidate Lisa Ohnstad (class of 2015) is pictured during an experiential rotation. (photo courtesy of Lisa Ohnstad)
(second from top): Lisa Ohnstad is congratulated by Dean John Vandel during the UW School of Pharmacy White Coat Ceremony in August 2011. (photo by Jeff Gilmore Photography)
(second from bottom): UW Pharmacy student Lisa Ohnstad is pictured with her family after she was honored for being a Tillman Military Scholar during the UW Homecoming game in October 2012. (photo courtesy of Lisa Ohnstad)
(bottom): UW Pharmacy student and Tillman Military Scholar Lisa Ohnstad (second from left) met with Wyoming Senator Mike Enzi during the Pat Tillman Leadership Summit in 2012. (photo courtesy of Lisa Ohnstad)