Michelle Hilaire Participates in Great Expectations Speaker Series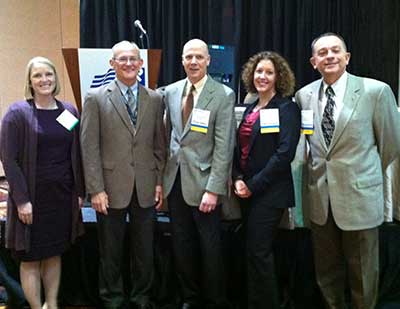 Clinical Associate Professor of Pharmacy Practice Michelle Hilaire, Pharm.D., participated in the Great Expectations Speaker Series at the 2012 American Society of Health-System Pharmacists' Midyear Clinical Meeting in Las Vegas, Nevada, in December.
Hilaire presented "A Practitioner's Guide to a Winning Career in Patient Care, Teaching and Scholarship" during the well-attended session.

The speaker series titled, "Starting Your Career as a Pharmacy Faculty Member," was put on by the American Association of Colleges of Pharmacy.
Hilaire and fellow presenters Jen Adams, Pharm.D., Terry Schwinghammer, Pharm.D., Joe DiPiro, Pharm.D., and Michael Burton, Pharm.D., presented a program about opportunities available in academic pharmacy to about 150 new practitioners.
Photo:
UW School of Pharmacy Clinical Associate Professor of Pharmacy Practice Michelle Hilaire (second from right) and fellow presenters (L to R) Jen Adams, Terry Schwinghammer, Joe DiPiro, and Michael Burton participated in the AACP Great Expectations Speaker Series at ASHP in December. (photo courtesy of Michelle Hilaire)