Lanae Salveson and Janna Crumpton Receive BCPS Certification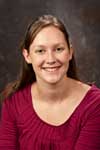 Lanae Salveson, Pharm.D., BCPS, and Janna Crumpton, Pharm.D., BCPS, both UW School of Pharmacy clinical assistant professors of pharmacy practice, were recently granted certification as Board Certified Pharmacotherapy Specialists (BCPS) by the Board of Pharmacy Specialties.

Salveson's practice setting is the Wyoming Medical Center in Casper, Wyoming, and she teaches in the Introduction to Pharmacokinetics and Therapeutics II courses. Her research interest areas include medication therapy management and family medicine.
Crumpton's practice site is the University of Wyoming Family Medicine Residency Program in Cheyenne, Wyoming. She teaches in the therapeutics series of courses at the school.

Pharmacotherapy is the area of pharmacy practice that is responsible for ensuring the safe, appropriate, and economical use of drugs in patient care. The pharmacotherapy specialist has responsibility for direct patient care, often functions as a member of a multidisciplinary team and is frequently the primary source of drug information for other healthcare professionals.