Alumnus Travis Walthall's Custom Rx Pharmacy Receives National Accreditation
PCAB recognizes pharmacy's excellence and commitment to quality standards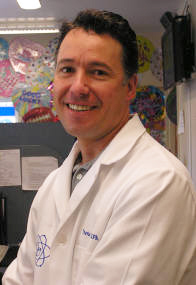 KUNA, Id. (April 14, 2013) ― Custom Rx Pharmacy in Kuna, Idaho, owned by alumnus Travis Walthall, R.Ph. (B.S.P. '98) and his wife Tina, was recently accredited by the Pharmacy Compounding Accreditation Board (PCAB). The accreditation is awarded in recognition of the pharmacy's commitment to meeting and/or exceeding national quality standards. As such, they are currently the only nationally accredited compounding pharmacy in the Treasure Valley of Idaho and the second in the state.
"Our new PCAB® Accreditation status and our designation as a PCAB Accredited® compounding pharmacy lets our community know that Custom Rx Pharmacy ranks among the best for commitment to quality," says Walthall. "We are honored by this new accreditation. It confirms our commitment to providing safe, personalized solutions that meet the medical needs of our patients—and the needs of the healthcare providers in the Treasure Valley who rely on us for these specialized medicines. We believe this will further strengthen the bond of trust between our pharmacy and the Treasure Valley Medical Community."
after graduating from the UW School of Pharmacy
Walthall started working for an independently-owned pharmacy that did some compounding about four years after he graduated from UW. He says, "I was really at a loss about all the options available for customers. It took me a while to see the endless opportunities to meet my customers' and physicians' needs with compounding but eventually I did. My wife and I bought the little independent three years ago and it was our goal at that time to make high quality preparations and get accredited.
"My only compounding experience prior to employment at a compounding pharmacy was a semester at UW and a few weeks at the Cody hospital. I remember telling fellow students that it was kind of like a cooking class–read the instructions and make the preparation. I realize now that I should have paid more attention to the chemistry and the way different bases could be utilized. At that time, my goal was to just go work for a chain but it didn't take too long to realize that was not the way I wanted to practice pharmacy. I suppose it makes good financial sense for some, but I feel it is not good for patients to have their pharmacists governed by business majors."
Walthall advises current students to try as many different settings as possible during rotations. He says, "If you already have lots of retail experience, stay away from those rotations and expand your horizons. Ask your preceptors why they chose their practice setting and what they would do differently if they had the choice."
about compounding pharmacy
Compounding medications is an integral part of the practice of pharmacy and the demand for these customized medications is increasing every year, yet many people may not even be aware of its role. Compounding pharmacies use modern technology and innovative techniques to customize medications to meet specific patient needs. Some of these needs include patients who are allergic to dyes or preservatives or are sensitive to standard drug strengths. A compounding pharmacy can work with a physician to change the strength of a medication or alter its form to make it easier for the patient to ingest. They may be able to add a flavor to make it more palatable or prepare the medication using one of several unique delivery systems, such as through a lozenge, a lollipop, or a gel or cream that can be absorbed through the skin. Compounded medications are prescriptions that are written by physicians, veterinarians, and other legally authorized prescribers and prepared for an individual patient by specially trained staff in a laboratory environment.
In early 2010, the team at Custom Rx Pharmacy set out to establish themselves as more than just "your corner pharmacy." They had a vision of offering prescribers and patients unparalleled assistance and a variety of much needed services. These services include compounding, medication bubble packing, delivery and mail-outs, and Medi-Set fill and rotation services. With the belief that pharmacy should be about doing things right to the highest possible standards, Custom Rx has seen its compounding business more than double in the past year alone. "It is amazing the number of patients we see from Eagle, Nampa, and Boise," says Walthall. "The things that stand out to our customers most are: we generally know their name when they come in, if they call during business hours - they talk to a live person with a great attitude, and prescriptions are ready in minutes with no long lines at check out." As for the future, the pharmacy is currently exploring expansion into sterile compounding. Watch the Custom Rx Pharmacy video for more information.
about PCAB
The Pharmacy Compounding Accreditation Board (PCAB) is a nonprofit organization that provides a voluntary accreditation program for compounding pharmacies nationwide.  Formed by eight of the nation's leading pharmacy organizations, PCAB promotes, develops and maintains principles, policies and standards for improving the quality of pharmacy compounding nationwide. For more information, visit www.pcab.org.