2013 Grand Rounds/Research Day
The College of Health Sciences Grand Rounds/Research Day on April 12 featured School of Pharmacy students and faculty research presentations. Keynote speaker Linda Ercoli, Ph.D., discussed "Plaque and Tangle PET Imaging and Early Detection of Alzheimer's DIsease." Dr. Ercoli is the Director of Geriatric Psychology in the Department of Psychiatry and Biobehavioral Sciences at UCLA's Semel Institute with expertise in geriatrics, dementia, and the neuropsychological of aging.

Dr. Sreejayan Nair gave an oral presentation titled, "Blind men and the Elephant-Molecular Mechanisms for Insulin-potentiating Effects of Chromium."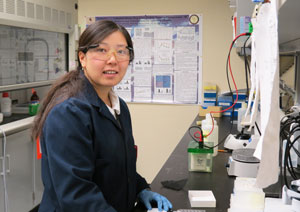 Among those honored for oral presentations, third place honors went to Biomedical Sciences graduate student Yinan Hua, for "Cathepsin K Knockout Alleviates Pressure-overload Induced Cardiac Hypertrophy." She also received a $1,000 student grant-in-aid titled, "Cathepsin K Knockout protects against Aging-associated Cardiac Dysfunction." Hua's advisor is Dr. Sreejayan Nair.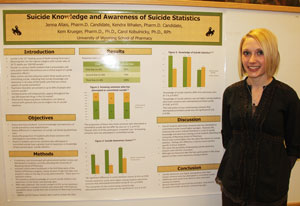 Among the competitive student poster award submissions, Pharmacy student Jenna Allais was the third place winner for her poster titled, "Assessment of Suicide Awareness and Knowledge of Suicide Statistics among University of Wyoming School of Pharmacy Students."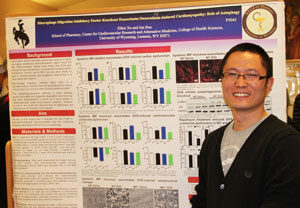 Another award-winning poster in the student category was Biomedical Sciences Ph.D. graduate Xihui (Alex) Xu for "Macrophage Migration Inhibitory Factor Knockout Exacerbates Doxorubicin-Induced Cardiomyopathy: Role of Autophagy." Xu's advisor is Dr. Jun Ren.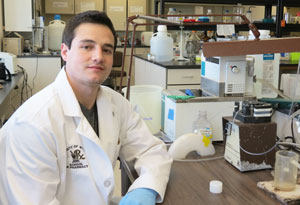 Pharmacy student Ben Pacheco also had an award-winning poster in the student category for "Macrophage Migration Inhibitory Factor Knockout Preserves Cardiac Function in High Fat Diet-Induced Diabetic Cardiomyopathy."