UW School of Pharmacy Announces 2013 Preceptors of the Year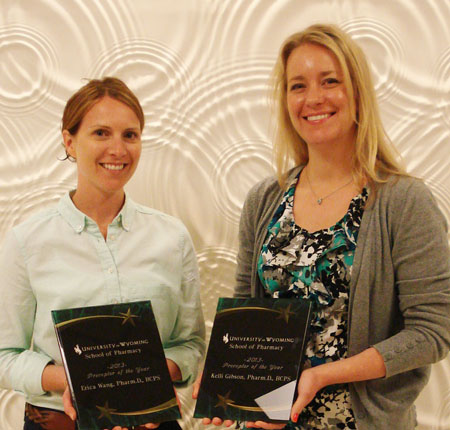 Erica Wang (L) and Kelli Gibson (R) were recognized at the Annual Honors and Awards banquet in May as the 2013 Preceptors of the Year for their significant contributions to the education of UW School of Pharmacy students.

In announcing the awards, Director of Experiential Education Janelle Krueger commented, "Pharmacists have a long history of helping train the next generation of practitioners. As many of you know, experiential education or rotations account for over 25 percent of our curriculum. Certainly it would be impossible to accomplish this without the generous assistance of our preceptors. Each year we seek nominations for outstanding preceptors from our rotation students and ultimately choose two worthy individuals."
Kelli Gibson, Pharm.D., BCPS, with Rose Medical Center in Denver, Colorado, teaches an Introductory Hospital rotation for P2s.
Students comment about Dr. Gibson:

"I think that Kelli is a very good teacher. She encourages students to think independently, but is always available for help.  In addition, she challenges us to formulate our own ideas of treatment processes."

"She was very approachable and friendly.  She had a very organized and thought-out schedule of tasks and objectives in order to get the best idea of everything that goes on in the hospital.  She had a good group of colleagues who were equally friendly and willing to help teach."

"Kelli is very understanding and excited to have students here.  She challenges us by asking drug information questions and helps us get to the right answer if we get stumped."
 
"I felt this rotation was an excellent introduction to all aspects of hospital pharmacy and I would highly recommend this site to future students."

Erica Wang, Pharm.D., BCPS, is also with Rose Medical Center in Denver, Colorado, and teaches a Critical-Care elective for P4 students. Dr. Wang is an alumna of the UW School of Pharmacy where she received her Doctor of Pharmacy degree in 2006.

Students comment about Dr. Wang:

"Erica, a UW grad, is first and foremost an excellent practitioner.  I was extremely impressed with her knowledge and ability to know just the right role to play in interdisciplinary ICU rounds.  Secondly, she has created a rotation opportunity in which she provides so much more one-on-one teaching time than the other rotations I have experienced. A student at Rose feels very welcomed, important, and motivated due to the environment Erica has created.  I enthusiastically recommend her for preceptor of the year."

"Erica is a natural teacher.  She is basically a storyteller of ICU patient care.  I enjoyed listening to her talk about various subjects and tried to soak in every bit of knowledge she offered.  Erica takes time for her students and is very accommodating of their needs and interests during the rotation. Her opinion is very respected by her coworkers and she sets an excellent example for her students.  Erica is the type of Pharmacist I strive to become."

"Erica is exactly the kind of preceptor every site needs.  She encourages students, challenges them, and is always positive and helpful."

"Erica made this rotation incredibly educational, enjoyable, and challenging at the same time. I looked forward to coming to work every day and have learned more than I ever could have imagined in one month!"