Dawn Davison Presents During Wyoming Undergraduate Research Day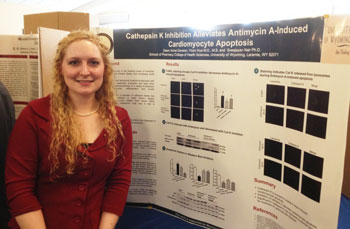 Dawn Anne Davison, a fourth year Pharm. D. student gave oral and poster presentations of her research titled, "Cathepsin K Inhibition Alleviates Antimycin A-Induced Cardiomyocyte Apoptosis," during the Wyoming Undergraduate Research Day on April 17, 2013.
Ms. Davison is the recipient of the EPSCOR/INBRE Undergraduate Research Award in 2012 and the presentation was pertaining to the research work she did for this proposal. Ms. Davison worked in the lab of Dr. Sreejayan Nair and was supervised by Ms. Yinan Hua (student Biomedical Graduate Sciences program).
(photo courtesy of Dr. Sreejayan Nair)