Evgeniy Panzhinskiy Awarded MCLS Ph.D. Degree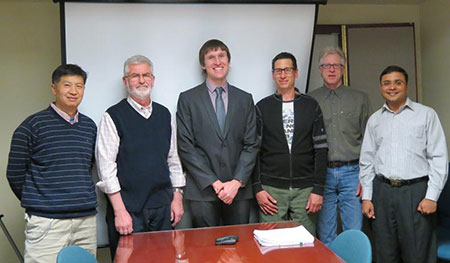 This spring, Evgeniy Panzhinskiy was awarded a Ph.D. degree in the University of Wyoming Molecular and Cellular Life Sciences (MCLS) graduate program for his thesis titled, "Role of protein tyrosine phosphatase 1B and endoplasmic reticulum stress in obesity-induced insulin resistance." Panzhinskiy worked under the supervision of Dr. Sreejayan "Sree" Nair (Associate Professor of Pharmacology, School of Pharmacy) and his graduate committee members were Dr. Jun Ren (Professor, School of Pharmacy), Dr. Bruce Culver (Professor, School of Pharmacy), Dr. David Fay (Professor of Molecular Biology and Director of Molecular and Cellular Life Sciences Program) and Mark Stayton (Associate Professor and Head, Department of Molecular Biology).

Panzhinskiy joined the MCLS program in 2008 after completion of his MS in Molecular Biology form the Novosibirsk State University, Russia. He worked for a short while in Dr. Mita Das' lab before switching to Dr. Nair's lab when Dr. Das left the institution. His dissertation was focused on understanding the molecular mechanisms that leads to insulin resistance and diabetes under obese conditions.

Panzhinskiy has published his research findings in a number of top-tier journals including Diaetologia, Current Medicinal Chemistry, and Cardiovascular Research, and presented his work in various national and local meetings including the American Heart Association and the Experimental Biology meeting. He is the recipient of the 2010 Featured Topic Presenter Travel Award from American Physiological Society and the 2012 Graduate Student Travel Award from American Society for Pharmacology and Pharmaceutics.

Panzhinskiy's research was supported by the Wyoming INBRE program and the School of Pharmacy. Evgeniy is an avid skier and is the graduate student representative of the University of Wyoming Nordic Ski Team.
Photo:
(L to R): Jun Ren, Bruce Culver, Evgeniy Panzhinskiy, David Fay, Mark Stayton, and Sreejayan Nair are pictured following Panzhinskiy's Ph.D. defense.