UW Pharmacy Student Jennifer Steiner is First Author on Invited Review Article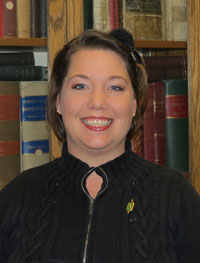 An invited review written by UW School of Pharmacy student Jennifer B. Steiner, Zhenbiao Wu (with the Department of Clinical Immunology, Xijing Hospital, Fourth Military Medical University, Xi'an, China), and Jun Ren, UW School of Pharmacy Professor of Pharmacology, has been accepted for publication in the journal of Clinical and Experimental Pharmacology and Physiology July 2013 issue. The article titled, "Ticagrelor: Positive, negative and misunderstood properties as a new antiplatelet agent," is available online from: http://onlinelibrary.wiley.com/doi/10.1111/1440-1681.12097/abstract.
Steiner credits Dr. Ren's guidance and his Advanced Cardiovascular Physiology and Pharmacology class (PHCY 6550) for this academic opportunity. Jun Ren, M.D., Ph.D., FAHA, is also the College of Health Sciences Associate Dean for Research and the Wyoming INBRE Program Director.
Ticagrelor is a reversible oral anti-platelet agent that non-competitively binds to platelet receptors. Ticagrelor gained notoriety when an international clinical study compared ticagrelor, prasugrel and clopidogrel drug therapy in combination with aspirin in patients with stable acute coronary syndrome. Of these three agents, ticagrelor demonstrated an overall superior reduction in mortality. These promising findings were controversial because some countries in the study reported the mortality reduction from ticagrelor was actually inferior to that of clopidogrel. In this mini-review, the authors analyze the possible pharmacological mechanisms for these conflicting clinical outcomes and for other observed effects of ticagrelor.
Steiner (class of 2014), from Billings, Montana, was accepted into the 2012 Paul Ambrose Scholars Program of the Association for Prevention Teaching and Research and the Office of Disease Prevention and Health Promotion. This highly competitive national award is given to graduate and professional students in Allopathic Medicine, Dentistry, Graduate Nursing, Physician Assistant, Osteopathic Medicine, Pharmacy, and Physical Therapy (D.P.T.). Steiner was one of 46 scholars chosen, of which 9 were Pharm.D. students. She is the first Ambrose Scholar from the University of Wyoming.