Melissa Mehle Named 2013 National AACP Walmart Scholar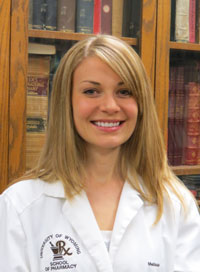 University of Wyoming School of Pharmacy student Melissa Mehle, from Rock Springs, Wyo., has received a 2013 American Association of Colleges of Pharmacy (AACP) Walmart Scholars Award.
Mehle and faculty mentor Michelle Hilaire, clinical associate professor of pharmacy practice, attended the AACP Annual Meeting July 13–17 in Chicago, Ill. During the meeting, they participated in interactive studies which focused on leadership development including a teacher's seminar about strategies for effective teaching and learning.
"Melissa completed a 4 week academic-focused rotation that included learning the many aspects of being a faculty member in a school of pharmacy," says Hilaire. "She was a natural choice for the Walmart Scholars Program. She had prior teaching experience and has been an advocate for interprofessional education and collaboration while a student at UW. I wanted to expose her to all the facets of academics and give her the opportunity to build professional connections for future success."
The AACP Walmart Annual Conference Scholarship Program provides up to eighty-five (85) student-faculty pairs from AACP member institutions a $1,000 scholarship to support registration and other meeting expenses for the student to attend and participate in the AACP Annual Meeting. The goal is to strengthen recipients' research and scholarship skills for careers in academia.
"Being named a Walmart Scholar is a huge honor. I was amazed to learn about all the activities academics are involved in that students do not see," says Mehle. "Teaching lectures is only one part of their job. For example, it was great to see the research projects and committees people in academia are involved in. The AACP meeting showed me a side of academia I did not know before. I love teaching and hope to one day work in academia."
Last spring, Mehle was a teaching assistant (TA) in pathophysiology for Assistant Professor of Pharmacology Suzanne Clark. While a TA, Mehle gave a presentation to the students about interprofessional education and collaboration—a subject she is very passionate about. She also served as a student member on the interprofessional committee on the UW campus. Mehle is active in the UW student chapter of the National Community Pharmacists Association and has participated in medication take-backs, brown bag events, and fundraising activities. She has worked as a pharmacy intern at Osco Pharmacy while in school.