Pharmacy Faculty, Students, and Alumni Present at 2013 AACP Annual Meeting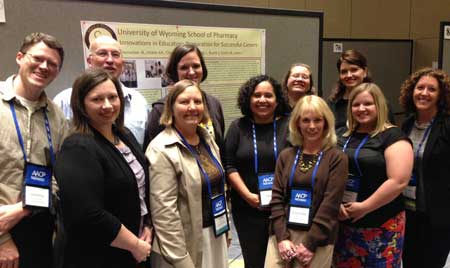 The UW School of Pharmacy was well-represented at the 2013 AACP Annual Meeting, July 13–17 in Chicago, Illinois. Representing UW were Linda Martin, Tonja Woods, Suzanne Clark, Carol Kobulnicky, Larry Staubach, Michelle Hilaire, Jessie Burch, Melissa Hunter, Maria Bennett, Cara Harshberger, Jeremy Vandiver, Antoinette Brown, Lauren Biehle, Becky Linn, Walmart Scholar Melissa Mehle, and Ambrose Scholar Jennifer Steiner.

Among other activities during the meeting, Melissa Mehle and Michelle Hilaire participated in the Walmart Scholars Program; Linda Martin and Tonja Woods attended the Leadership Seminar; Lauren Biehle, Michelle Hilaire, and Melissa Mehle attended the Teachers Seminar; and Maria Bennett, Tonja Woods, Larry Staubach, and Melissa Hunter participated in the Admissions Seminar. Linda Martin served as the administrative delegate; Carol Kobulnicky as the faculty delegate, and Melissa Hunter as the faculty delegate alternate.

UW Faculty and Student Presentations

The University of Wyoming School of Pharmacy poster presentation was titled "Innovations in Education: Preparation for Successful Careers." Contributors to the poster were first author Jaime Hornecker, Michelle Hilaire, Suzanne Clark, Linda Martin, Lauren Biehle, Jessie Burch, Jodi Schilz, and Chloe Jones.

During a special session called "Creating Opportunities to Advance Community Pharmacy-Based Research," Larry Staubach presented on the research question "What are the critical knowledge and skills required by community pharmacists to respond to the increasing demand for pharmaceutical care and wellness services in a large chain, retail setting?" The program focused on the need for cultivating and supporting community pharmacy-based research in academia.

Suzanne Clark was the chair and moderator for a special session titled "Public Health SIG: Paul Ambrose Scholars and Albert Schweitzer Fellows: National, Interprofessional Public Health Opportunities for PharmD Students." This was the official session of the Public Health SIG. The Paul Ambrose Scholars Program and the Albert Schweitzer Fellowships are competitive national programs that provide mentored, multidisciplinary/interprofessional public health training and opportunities for graduate students in healthcare fields, including Pharm.D. students. Pharmacy doctoral student Jennifer Steiner was a speaker during the session. Steiner is the first Ambrose Scholar from the University of Wyoming. Other presenters included pharmacy faculty and student Ambrose Scholars and Schweitzer Fellows from Roosevelt University, Butler University, and St. Johns College.

Michelle Hilaire had two presentations at the conference. She presented at the Graduate Student Program "Starting Your Career as a Pharmacy Faculty Member," which ended the Walmart Scholars Teaching Program. Her roundtable discussion "Mentoring and Milestones along the Faculty Career Pathway for the Midlevel Academician" was in collaboration with the AACP Pharmacy Practice Faculty Development Committee of which she served as a member.

UW Alumni Presentations and Awards

Meghan Jeffres (Pharm.D. '04) received the 2013 Innovations in Teaching Award for her project called "Gaming the System: Using Card Games to Facilitate Student Learning of Infectious Diseases and Cardiology." The award acknowledges notable teaching and learning strategies and assessment methods. Dr. Jeffres is currently an associate professor of pharmacy practice at the Roseman University of Health Sciences College of Pharmacy in Henderson, Nevada.

Shanna O'Connor (Pharm.D. '09) had two presentations at the 2013 AACP Annual Meeting. One special session was called "Rural Pharmacy Education: Past, Present and Future" and the other was a roundtable discussion titled "Seeing Scholarship and Collaboration Opportunities in Unique Ways but Everyday Places." Dr. O'Connor is currently an assistant professor and Kelley-Ross Faculty Fellow at the University of Washington School of Pharmacy.

Sarah Kerns Feddema Stephens (Pharm.D. '01) presented a poster titled "A Practice Redesigned: A Shared Position for Acute Care Clinical Faculty." Dr. Stephens is an assistant professor (clinical) at the University of Utah College of Pharmacy Department of Pharmacotherapy.
photo:
UW School of Pharmacy faculty and staff pictured by the School poster during the 2013 AACP Annual Meeting are (front, L to R) Tonja Woods, Linda Martin, Antoinette Brown, Lauren Biehle, and Michelle Hilaire; and (back, L to R) Jeremy Vandiver, Larry Staubach, Cara Harshberger, Maria Bennett, Melissa Hunter, and Becky Linn. (photo courtesy of Michelle Hilaire)