Innovations in Pharmacy Practice Lab Prepare Students for Real-life Experiences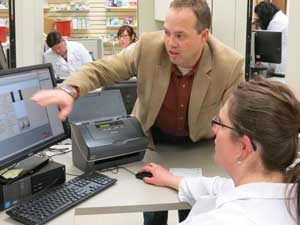 Students in the Pharmacy Practice Laboratory course at the University of Wyoming School of Pharmacy now have the advantage of real-life, hands-on experiences to help them prepare for their rotations and future careers.

Clinical faculty member Dave Bruch, Pharm.D., recently integrated new windows-based pharmacy management software into the P1 course. This innovation allows Bruch to simulate "real-life" and real-time pharmacy scenarios that included insurance claims adjudication, basic sterile product preparation, and utilization of select physical assessment techniques. The software is housed on 13 intranet-linked computers within the lab and Bruch's office in the School of Pharmacy. The system allows any student in the lab to input and verify prescriptions in real-time under the supervision of a teaching-assistant or instructor.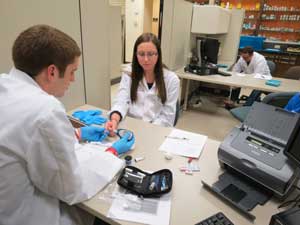 Students are also required to understand and participate in active-learning activities including prospective drug-utilization reviews (DURs), diabetic-foot exams, blood glucose testing, reading of blood pressures, and counseling mock patients on medication utilization. Additional active-learning simulations revolve around filling prescriptions, performing drug-interaction assessments, and reviewing patient profiles which provide students a strong "hands-on" approach that was lacking in the past.

The mock patients followed by the students through the semester become progressively more complex as new disease states are added weekly. Students are also presented with legitimate, counterfeit, incomplete, and illegal mock prescriptions throughout the semester to fill, clarify, or discard. This is done to simulate real-life attempted medication fraud.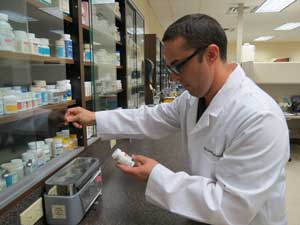 Creating the new laboratory experience did not come to fruition without a few challenges. The medication inventory in the laboratory was quite antiquated and Bruch was able to acquire many new medications from the Wyoming Department of Health's Medication Donation Program. Additionally, having enough man-power to make the lab run efficiently was lacking. This year, the laboratory will take on additional personnel that will include three teaching assistants and a pharmacy resident from the Cheyenne VA Medical Center in Cheyenne, Wyoming.
View more photos of the University of Wyoming School of Pharmacy Practice Laboratory Course.