Kali Autrey and Lisa Ohnstad Selected to Attend NCCWSL Conference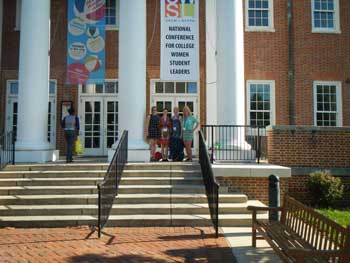 Kali Autrey and Lisa Ohnstad, P3 classmates in the University of Wyoming School of Pharmacy, were selected with seven other college women leaders from UW to attend the 2013 National Conference for College Women Student Leaders (NCCWSL) at the University of Maryland. After participation in teambuilding and leadership activities at UW, the women attended the national conference gaining inspiration and leadership skills. The NCCWSL Conference provided access to mentors, leadership training, the creation of lasting connections, and friendship among college women leaders.
Following the conference, all nine members are working as the steering committee for the University of Wyoming Women's Leadership Conference, "Find the Warrior Within," which will be held Nov 8–9, 2013. Through active participation in this yearlong position and leadership training, the group gained experience and insight into developing leadership skills and passing them on to other women.