Professor Robert Scalley Retires September 2013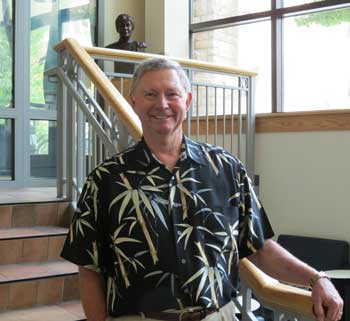 Professor Robert D. Scalley, Pharm.D., retired from the University of Wyoming School of Pharmacy in September 2013. Dr. Scalley is a professor of pharmacy practice and former associate dean of pharmacy practice who taught and mentored many classes of UW pharmacy students as well as clinical faculty.
College of Health Sciences and School of Pharmacy faculty, colleagues, students, alumni, friends, and family honored Dr. Scalley at a reception August 21 and celebrated his 41 years of hard work, loyalty, and dedication to the school. Dean Linda Gore Martin says, "Bob Scalley came to UW to change the profession of pharmacy by implementing clinical education. The success of this endeavor is his legacy."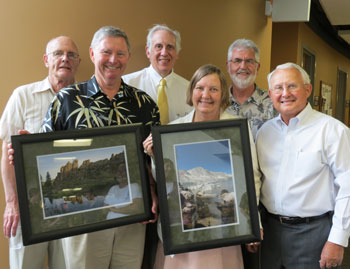 Dr. Scalley received a bachelor of science degree in pharmacy from the University of Utah in 1967. He then completed two years of pharmacy practice in the United States Army. In 1971, he received a doctor of pharmacy degree from the University of Southern California and, in 1972, completed a residency in clinical pharmacy at the University of Southern California-Los Angeles County Hospital in Los Angeles, California. In 1972, Dr. Scalley was hired by the UW School of Pharmacy to create the clinical pharmacy program.
In addition to the initial development and coordination of the clinical program, Dr. Scalley taught elective didactic and clerkship courses in Laramie and eventually the internal medicine rotation at Poudre Valley Hospital in Fort Collins, Colorado. He also contributed to the therapeutics and clinical pharmacokinetics courses, and offered elective rotations in infectious disease, diabetes management and academic pharmacy.
The history of developing the clinical program at the University of Wyoming School of Pharmacy is a vital part of the school's past and a key element in making the program as successful as it is today. Dr. Scalley has written an article documenting the history of the Clinical Pharmacy Program, how it was developed and the role it has and is playing in the school's success. (Read more)
Photos:
Top: Professor Robert Scalley was honored during a retirement reception in August following 41 years with the UW School of Pharmacy.
Bottom: Among those honoring Dr. Scalley were (L to R) Retired Professor and former Interim Dean Robert Nelson, Scalley, Dean Joseph Steiner, Dean Linda Gore Martin, Professor Bruce Culver, and former Dean John Vandel.