Richard Wilder Named UW School of Pharmacy Outstanding Alumnus for 2013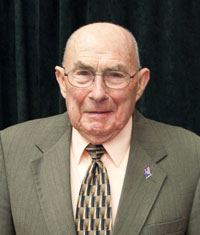 Richard R. Wilder (B.S.P. '50) from Cody, Wyoming, was named the University of Wyoming School of Pharmacy Outstanding Alumnus for 2013. Wilder was honored for his outstanding contributions and service to the profession of pharmacy during the College of Health Sciences award ceremony on October 11, 2013. The ceremony was held in the UW Conference Center at the Hilton Garden Inn. "Dick Wilder has proven that good guys can finish first—he is highly respected by his pharmacy colleagues and his community," says Dean Linda Gore Martin.

Wilder was born in Powell, Wyoming, in 1926. His parents, Tom and Maude Wilder, arrived in Powell in 1911 to homestead on the Shoshone project. Wilder grew up on the family farm and then made pharmacy his career. The Wilders have four children: Rick (living in Denver, Colorado), Steve, Jean, and Tom (all live in Cody). One son, Mike, was killed in a plane crash when he was a young man.

Wilder and the UW School of Pharmacy's history are uniquely tied together. The school was founded in 1946 as part of an expansion at UW following World War II. Wilder served in the U.S. Army Air Corps during the war and afterward attended UW on the GI Bill. He was a member of the school's first class, which consisted of 23 students—21 men and 2 women.

Wilder says, "It was an exciting time. Most of the members of the first class were veterans." The school occupied the first two floors of Merica Hall. Wilder's wife, Marge (Marjorie), adds, "In addition to tuition and books, the GI Bill provided a small cash amount of $90 per month to married veterans for living expenses." UW built temporary housing using barrack-type buildings. According to the Wilders, these buildings were referred to as the "Vet's Village." The Wilders lived in a Quonset-shaped, single-story building that had apartments at both ends and a shared bathroom in the middle of the building.

Wilder received a bachelor of science in pharmacy degree from UW in 1950. Following graduation, he and Marge purchased Cody Drug in Cody, Wyoming. They owned and operated Cody Drug from 1951 until 1991. During that time, Wilder, or Dick as he likes to be called, served as a preceptor for many UW School of Pharmacy students. He comments, "Some of the School's prize students came through our pharmacy, including Jennifer (Shreve) Nevins (B.S.P. '76) and Lynnann (Keeley) Mitchell (B.S.P. '78)." Even though alumnus Kevin Tripp (B.S.P. '78) did not intern at Cody Drug, he graduated from high school with Dick and Marge's son, Steve, and spent a lot of time with the Wilders.

During his long and successful career, Wilder was active in numerous professional and civic organizations. In 1962–1963, he served as president of the Wyoming Pharmaceutical Association (now the Wyoming Pharmacy Association, WPhA) and was secretary/treasurer of WPhA from 1963–1966. For his outstanding record of community service, Wilder received the Bowl of Hygeia Award for Wyoming in 1975. The list of his civic and community activities includes being president and/or treasurer of the following boards: Trinity Lutheran Church; Cody Chamber of Commerce; Park County School District #6; Cody Volunteer Fire Department (active member); Cody Volunteer Fire District Board; Riverside Cemetery District Board; Park County Historical Society and Wyoming State Historical Society; and the Wyoming Retail Merchants Association.

Wilder was also a member of the UW School of Pharmacy Advisory Committee, a member of the Cody American Legion Post #20; Life member of B.P.O.E. #1611; and 50-plus year member of the Cody Lions Club.