UW School of Pharmacy Alumni Receive WPhA-WSHP Awards
UW School of Pharmacy alumni were honored for professional excellence during the Wyoming Pharmacy Association (WPhA) and the Wyoming Society of Health-System Pharmacy (WSHP) Annual Convention in Laramie in June.
Tim Seeley: Bowl of Hygeia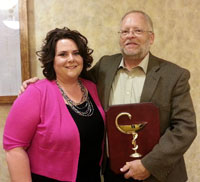 Tim Seeley (B.S.P. '84), from Powell, Wyoming, received the Bowl of Hygeia Award, one of the profession's most prestigious awards. The award honors recipients for outstanding records of civic leadership in their communities. Seeley has revealed himself as a selfless and dedicated individual to his family and community. Many in his community do not know him as a pharmacist, but as the Cajun Chef. He has a passion for cooking and has used that ability to help raise money for the Powell Medical Foundation's Annual Mardi Gras Event. This event has been the single largest event in the community to raise funds for medical services in Powell and Park County. Seeley has served on both the WPhA and the WSHP boards of directors and has been president of both. He has been recognized as the Pharmacist of the Year for both Wyoming associations and for Excellence in Innovation for his work with diabetes.
Photo: WPhA Executive Director Kara Beech presents Tim Seeley with the Bowl of Hygeia. (Photo courtesy of WPhA)
Kay McManus: Wyoming Pharmacist of the Year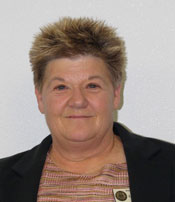 Kay McManus (B.S.P. '73), from Sheridan, Wyoming, received the Wyoming Pharmacist of the Year Award. McManus has operated her own drug store and has been a PIC in retail practice for most of her career. In 2001, she was appointed by Governor Jim Geringer to the Wyoming Board of Pharmacy. While on the board, she twice served two-year terms as president. McManus was a leader in the efforts toward collaborative practice, the prescription drug monitoring program, telepharmacy, e-prescribing and most recently technician education. She was very active in the MPJE. She has been an active participant in the profession of pharmacy as an advocate for not only patient safety, but also for pharmacist workplace quality. She is a proponent of pharmacists taking a break and has done extensive research on other state regulations that could be implemented in Wyoming. While these rule changes were unsuccessful in the legislature, her passion for safety has not waned. She is respected by her colleagues because she tells it like it is. She works for solutions and is a change agent.
Photo: Kay McManus was named the 2013 Wyoming Pharmacist of the Year. (Photo courtesy of Wyoming State Board of Pharmacy)
John Arross: WSHP Pharmacist of the Year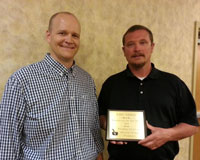 John Arross (B.S.P. '89), from Casper, Wyoming, was named the Health System Pharmacist of the Year for his dedication to the profession and outstanding mentorship abilities. Arross is the director of pharmacy at the Wyoming Medical Center in Casper. During his time as director, he has facilitated growth and increased services in the pharmacy department. Most recently, Arross has been instrumental in a computer system conversion in the pharmacy.
Photo: Matt Stanton (L) presents John Arross with the Health System Pharmacist of the Year Award. (Photo courtesy of WPhA)
Scot Schmidt: Excellence in Innovation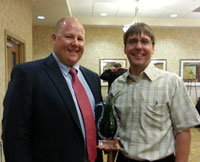 Scot Schmidt (Pharm.D. '06), from Cheyenne, Wyoming, received the NASPA Excellence in Innovation Award. Sponsored in part by Upsher-Smith, the award recognizes a pharmacist who has demonstrated significant innovation resulting in improved patient care and/or advancement of the profession of pharmacy. Schmidt started North Star Pharmacy and Infusion in 2011. He has diversified the practice to serve general and specialty healthcare needs of the region. In addition to offering traditional OTC health and beauty and prescription products, North Star also offers braces and DME services; both sterile and non-sterile compounding; and specialty products for patients of dermatology, wound care, and veterinary clinics. North Star recently brought a unit-of-use packaging robot online that provides medication packages in strips based on administration time. The system also prints the accompanying Medication Administration Records that are used by people in nursing homes, assisted living centers, hospice, and private homes. This innovation minimizes waste and the risk of medication errors. In his spare time, Schmidt participates in a CMS-sponsored Healthcare Innovation program using technology to link community pharmacists into patient-centered medical homes to provide MTM services to at-risk individuals. He also serves on the DUR Board, Cheyenne Hospice, and PACE Program.
Photo: Scot Schmidt (L), recipient of the Excellence in Innovation Award, is pictured with presenter Kem Krueger. (Photo courtesy of WPhA)
Stevi Sy: Distinguished Young Pharmacist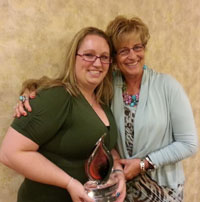 Stevi Sy (Pharm.D. '10), from Casper, Wyoming, received the Pharmacists Mutual Distinguished Young Pharmacist Award. The award acknowledges young pharmacists in each state for individual excellence and outstanding contributions to their pharmacy association and community. In 2011, Sy was nominated to a director position with WPhA. Her biggest asset to the association and the profession of pharmacy is her willingness to stand up and be heard. She is not afraid of a fight and that was evident when she spoke to the Labor Health and Social Services Committee about the recent immunization legislation. Sy discussed real working conditions for pharmacists and discussed why right now may not be the right time for this legislation. Her bravery in that moment was inspiring and she was commended by the Wyoming Nurses Association, the Wyoming Board of Pharmacy and legislators. Even as a student Sy's leadership abilities were evident through her participation in Phi Lambda Sigma and the APhA Academy of Student Pharmacists (ASP). She was president of ASP from 2008–2009 and she was awarded the McKesson Leadership Award in 2009.
Photo: Jennifer Nevins (R) congratulates Stevi Sy for receiving the Distinguished Young Pharmacist Award. (Photo courtesy of WPhA)