2013 Interprofessional Health Fair Well-Attended
Annual Fair Provides Many Health Services to UW and Laramie Community


Over 200 UW and Laramie community members received free health services and information at the interprofessional 7th Annual "Fall into Good Health" Fair November 2 at the Wyoming Union, almost tripling attendance from the year before. The event is organized each year by the UW chapter of Phi Lambda Sigma (PLS), the pharmacy leadership society, in conjunction with the College of Health Sciences.

Many free services were provided including blood glucose, hemoglobin A1c, lipid panel, and diabetic foot testing; "brown bag" medication counseling; osteoporosis screening; medication disposal; and asthma counseling, to name just a few. Flu shots and full blood work were also available for a small fee. The interdisciplinary health fair involved the cooperation of students from several professions including pharmacy, nursing, speech pathology, and the WWAMI (Washington, Wyoming, Alaska, Montana and Idaho) medical education program, as well as various health care providers. See the full list of providers and services offered.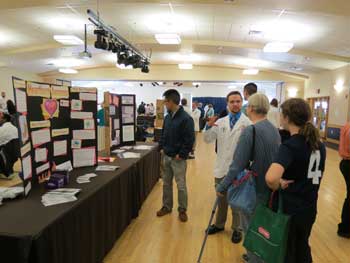 Among the many positive comments from participants about what they thought was done well, one participant said, "Everything, all the people were friendly, helpful and knowledgeable. I really like the multi-services, stations and medical areas covered. Really good that such a diverse amount of information is available. Well Done!" Another participant commented, "I liked that you could get screenings as well as information." "Best one I have been to," added another participant.

Kali Autrey, president of PLS, attributed the great turnout to increased advertising efforts. "We advertised with posters around campus and town, announcements on two local radio stations, as well as in church bulletins and on electronic billboards with various businesses," Autrey says. She notes that PLS members handed out "save the date" flyers at the Farmer's markets in August and September, delivered flyers to Senior Housing, handed out 400 flyers with Dum-Dums in the UW homecoming parade along with Pinky the Elephant, sent quarter-page sheets to pharmacies, the Downtown Clinic, and to pizza places to send out with their pizzas.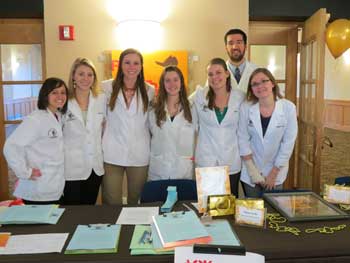 Autrey adds, "The health fair was featured in the Laramie Boomerang with a preview story and large picture from last year's health fair. We submitted ads on the Internet through the Boomerang, Craigslist and the UW Campus Activities Center, on local television stations, sent emails through the university's list serve, and advertised at the Wyoming Union with posters in various places including table tent signs. Our group also created an event on Facebook and we heard that many people just found out by word of mouth."

View more photos from the 7th Annual "Fall into Good Health" Health Fair.
Share This Page: