Reshmi Singh Receives Travel Grant to Attend Assessment Academy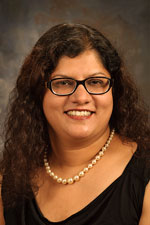 Reshmi Singh, Ph.D., assistant professor of social and administrative pharmacy, was recently awarded a $2,000 travel grant from the UW Office of Academic Affairs and the Ellbogen Center for Teaching and Learning to attend an Assessment Institute titled, "33rd Annual Conference on the First-Year Experience" which will be held in San Diego, California, February 15–18, 2014.
The conference provides an ongoing forum where higher education professionals can share experiences, concerns, and accomplishments related to supporting student learning, development, and success in the first college year. Singh will be the Pharmacy Coordinator for the UW Freshman Seminar starting fall 2014.