2013 Clinical Skills Competition Hosted by ASHP
by Kendra Whalen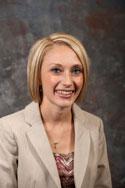 Jenna Allais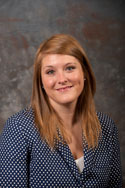 Kendra Whalen
On December 7, 2013 University of Wyoming School of Pharmacy students Jenna Allais and Kendra Whalen represented the School of Pharmacy at the semi-final round of the National Clinical Skills Competition hosted by the American Society of Health-System Pharmacists (ASHP) in Orlando, Florida. The two students qualified to participate by winning the regional Clinical Skills Competition held on the UW campus September 26, 2013. For their participation in the national competition, Allais and Whalen received compensation for their registration fees to the 2013 ASHP Midyear Clinical Meeting as well as financial assistance from the school.

The Wyoming team was among 124 teams from across the United States to participate in the semi-final round. The competition is judged based on the pharmacist's assessment and care plan for the given patient case created by each team. The students have two hours to identify and assess the priority of the patient's problem list and subsequently create a treatment and monitoring plan.

The competition is an excellent experience for students to employ all the skills they have learned throughout their academic career—not only through application of drug and disease state knowledge, but especially, in drug literature use and critical thinking skills. It would be wonderful to see more students from every class in the school participate in the regional competition to reinforce the knowledge students gain through didactic coursework, as well as to begin development of application based skills. Both Allais and Whalen loved the experience, and would encourage all students to participate in this exciting opportunity.
Share This Page: