Alumna Lindsey Poppe Named 2013 ASHP Best Practices Award Recipient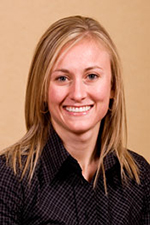 University of Wyoming School of Pharmacy alumna Lindsey Poppe, Pharm.D. ('09), M.S., BCPS, is one of the recipients of the Fifteenth Annual ASHP Best Practices Award in Health-System Pharmacy. She was honored at the 2013 Poster Reception December 8, 2013, during the ASHP Midyear Clinical Meeting and Exhibition in Orlando, Florida.

Poppe and her colleagues from University of North Carolina Hospitals at Chapel Hill, North Carolina, were selected as one of the six award-winning programs featuring best practices in health-system pharmacy, especially in those areas that significantly improve the quality of patient care. They were honored for "Advancing into Unchartered Territory: Impact of an Innovative Factor Stewardship Program on Drug Expense, Patient Care, and a Pharmacist's Role," (Lindsey B. Poppe, PharmD, MS, BCPS; Sheh-Li Chen, PharmD, BCOP; Rowell Daniels, PharmD, MS; Nigel Key, MB, ChB, FRCP; Stephen F. Eckel, PharmD, MHA, BCPS, FAPhA, FASHP; Scott W. Savage, PharmD, MS).
Share This Page: