December 2013 News Articles
University of Wyoming School of Pharmacy news for the fourth quarter of 2013
Past news articles about University of Wyoming School of Pharmacy alumni, faculty, staff, researchers, and students. We invite you to also check out other past news articles on the News Archives webpage. The school distributes both a quarterly electronic newsletter, the News Capsule, and an annual report and newsletter, Wyoming Scripts. Current and past issues of these newsletters can be found on the Newsletters webpage.
---
Fourth Quarter 2013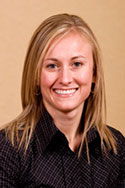 Alumna Lindsey Poppe Named 2013 ASHP Best Practices Award Recipient

University of Wyoming School of Pharmacy alumna Lindsey Poppe, Pharm.D. ('09), M.S., BCPS, is one of the recipients of the Fifteenth Annual ASHP Best Practices Award in Health-System Pharmacy. She was honored at the 2013 Poster Reception December 8, 2013, during the ASHP Midyear Clinical Meeting and Exhibition in Orlando, Florida.
| | |
| --- | --- |
| | |
| Jenna Allais | Kendra Whalen |
2013 Clinical Skills Competition Hosted by ASHP

University of Wyoming School of Pharmacy students Jenna Allais and Kendra Whalen represented the School of Pharmacy at the semi-final round of the National Clinical Skills Competition hosted by the American Society of Health-System Pharmacists in Orlando, Florida, December 7, 2013. The Wyoming team was among 124 teams from across the U.S. to participate in the semi-final round.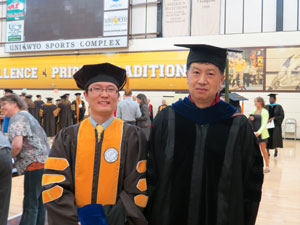 Research News from C-CRAM

The University of Wyoming Center for Cardiovascular Research and Alternative Medicine (C-CRAM) is celebrating nine years of outstanding research contributions in the treatment and prevention of cardiovascular disease and metabolic diseases. During 2013, members of C-CRAM presented at regional and national meetings, including INBRE, ADA, and AHA. Members of C-CRAM also published over 50 high impact journal publications.  At left, Alex Xu, pictured with Professor Jun Ren, became the first Ph.D. graduate from the UW BMS Ph.D. program.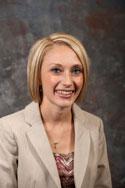 UW Pharmacy Student Jenna Allais Presents Poster at ASHP Midyear

University of Wyoming School of Pharmacy student Jenna Allais, class of 2014, attended the American Society of Health-System Pharmacists (ASHP) Midyear meeting December 6–10 in Orlando, Florida, where she gave a poster presentation titled, "Assessment of Provider's Knowledge of Current Diabetes Guidelines and Drawbacks to Reaching Patient Goals." Allais worked with Clinical Associate Professor of Pharmacy Practice Michelle Hilaire, Pharm.D., CDE, BCPS, to assess providers' knowledge of current diabetes guidelines and roadblocks in reaching patient goals at the Fort Collins Family Medicine Center in Fort Collins, Colorado.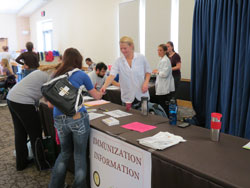 2013 Interprofessional Health Fair Well-Attended
Over 200 UW and Laramie community members received free health services and information at the interprofessional 7th Annual "Fall into Good Health" Fair November 2 at the Wyoming Union, almost tripling attendance from the year before. The event is organized each year by the UW chapter of Phi Lambda Sigma (PLS), the pharmacy leadership society, in conjunction with the College of Health Sciences.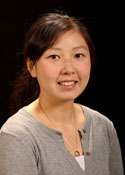 Yinan Hua Receives 2013 AAiPS Research Award

Yinan Hua, M.D., M.S., a graduate student in the UW Biomedical Sciences Ph.D. program, is the recipient of a 2013 American Association of Indian Pharmaceutical Scientists (AAiPS) Research Award for her research titled, "Cathepsin K knockout alleviates aging-induced cardiac dysfunction by blocking caspase-independent apoptosis."
| | |
| --- | --- |
| | |
| Juanita Bonner | Jessica Hopper |
| | |
| Linda Gore Martin | Penelope Caldwell |
Ethics and Medical Mission Work Research Study Published

A research study of ethics and medical mission work in Honduras was recently published in the October 2013 edition of a new open access journal titled Universal Journal of Public Health. The article titled, "Pilot Surveys of Ethics and Short-Term Medical Mission Work: University of Wyoming Agua Salada Clinic, Honduras," was authored by recent UW School of Pharmacy graduates Juanita Bonner, AA, Pharm.D. ('13), R.Ph., and Jessica Hopper, Pharm.D. ('12), R.Ph., with Linda Gore Martin, Pharm.D., R.Ph., M.B.A., BCPS, Dean, School of Pharmacy, and Penelope Caldwell, CNM, DNP, Brigade Faculty Advisor, Assistant Lecturer, Fay W. Whitney School of Nursing.
| | |
| --- | --- |
| | |
| Michelle Hilaire | Jaime Hornecker |
Michelle Hilaire and Jaime Hornecker Book Chapter Published

Michelle Hilaire, Pharm.D., CDE, BCPS, and Jaime Hornecker, Pharm.D., BCPS, clinical associate professors of pharmacy practice at the University of Wyoming School of Pharmacy, were recently published in Pharmacotherapy Principles and Practice Study Guide: A Case-Based Care Plan Approach, Third Addition.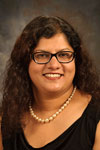 Reshmi Singh
Reshmi Singh Receives Travel Grant to Attend Assessment Academy

Reshmi Singh, Ph.D., assistant professor of social and administrative pharmacy, was recently awarded a $2,000 travel grant from the UW Office of Academic Affairs and the Ellbogen Center for Teaching and Learning to attend an Assessment Institute in February 2014.
| | |
| --- | --- |
| | |
| Lauren Biehle | Jessie Burch |
Lauren Biehle and Jessie Burch Present at WCAPN Conference

Lauren Biehle, Pharm.D., BCPS, and Jessie Burch, Pharm.D., BCPS, clinical assistant professors of pharmacy practice at the University of Wyoming School of Pharmacy, presented at the 2013 Wyoming Council for Advanced Practice Nurses (WCAPN) Pharmacotherapy Conference October 18, 2013, in Cheyenne, Wyoming.
Committee Spotlight: Curriculum and Instruction
Committees at the University of Wyoming School of Pharmacy are a very important part of the administrative structure of the school. Faculty, staff, and student members of these committees work very hard behind the scenes throughout the year. In order to increase awareness and provide information to our alumni, faculty, staff, and students of the efforts and accomplishments of our committees, we will spotlight a committee in each of the next few issues of the News Capsule. These features will show how the committees are positively impacting our program and our students. This month, the Curriculum and Instruction Committee (C&I) is in the spotlight.
---